5 Bruno Mars Songs We Will Never Get Tired Of
After some years of hiatus, Bruno Mars is back! Bruno teamed up with Anderson .Paak to create a new project called "Silk Sonic". On Thursday night they announced this new collaboration on social media for everyone's delight.
This new collective is treating us with a new album really soon. Their first single is releasing on March 5th. We hope that soon after we will be able to hear the whole album. Bruno Mars and Anderson .Paak first toured together in 2017 and ever since then there were rumors of them working together.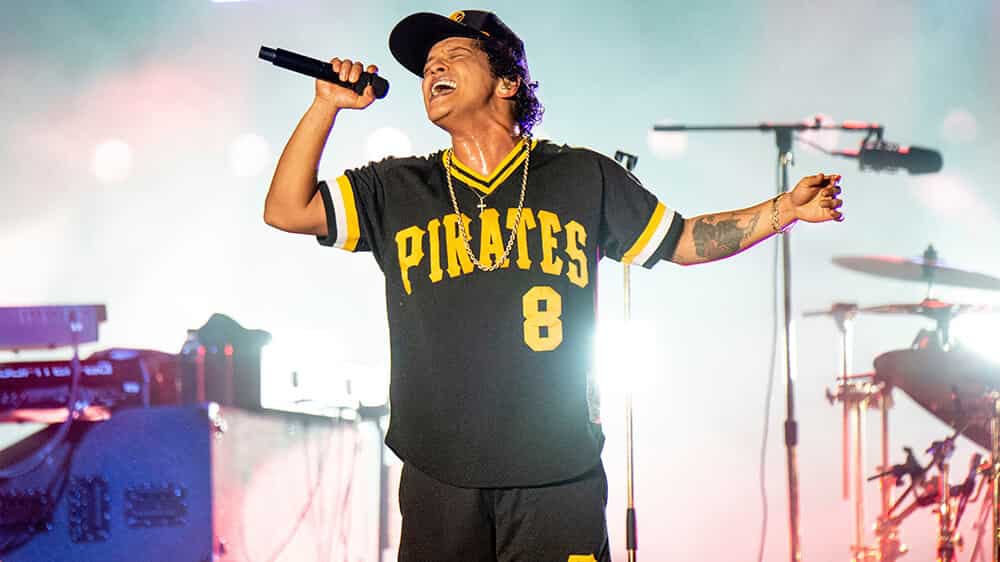 On social media, they also teased that the legendary Parliament-Funkadelic bassist, Bootsy Collins will be making a special appearance as "special guest host".
Bruno teased with an Instagram picture and the caption reads, "We locked in and made an album. The band's called Silk Sonic. First song drops next Friday 3/5,"
So to celebrate this new project, we made a list of the most famous Bruno Mars songs, so far. Also, all of these songs have incredible bass lines as well. Must-know songs for every bass player out there.
This list is in no particular order, let's dive into it.
5. Bruno Mars - Locked Out Of Heaven
This song was the first single from Bruno's second album "Unorthodox Jukebox". 
This song earned Bruno Mars 3 Grammy nominations. It topped the charts in more than 20 countries. Bruno noted that he took inspiration from the English band "The Police" for this song.
4. Bruno Mars - 24k Magic
The next Bruno Mars song on our list is the first single off his third studio album, "24k Magic". This song has a major throwback vibe. It channels the really popular '90s sound but with a more modern approach. 
It has an incredible synth bassline that is a must-know groove for every bass player in 2021. This song received a number of nominations at the 60th Grammy Award show, winning "Record of the Year".
Furthermore, the album "24k Magic" won seven Grammy Awards at the same show.
3. Mark Ronson feat. Bruno Mars - Uptown Funk
Uptown Funk is a song by English producer Mark Ronson featuring Bruno Mars. It was the lead single from Mark's "Uptown Special" album. If we look at YouTube views, this is one of the most famous Bruno Mars songs of all time with over 4 billion views to date.
This song was a smash hit for both Mark and Bruno. It spent 14 weeks at the number 1 spot in the United States and topped charts all over the world. Uptown Funk earned two Grammy Award nominations, including the most prestigious category "Record of the Year". This song was heavily influenced by the '80s Minneapolis "Prince" sound.
Mark is also known for his work as a producer in the music business. Most notably he worked with  Amy Winehouse, Adele, and Lady Gaga to name a few.
The next song on our list is coming from his sophomore album, "Unorthodox Jukebox". Treasure became Bruno Mars's seventh top 10 hits. This song also charted in many countries around the world, making it a worldwide hit for Bruno. It features a really catchy bass line that carries the whole tune forward. It also has a great P-Bass tone, perfect match for this style. 
The single was also certified four-times platinum by the Recording Industry Association of America.
1. Bruno Mars - That's What I Like
This song was the second single from his "24k Magic" album. This was Bruno's seventh number 1 song and surpassed the success of the title track as well.
This song, like the whole "24k Magic" album, has that great '80s and '90s groove to it. A great throwback and nod to the artists that paved the way back in the day.