Nightwish Bassplayer Marko Hietala Leaves Band
Bass Player Marko Hietala, who joined Nightwish in 2001, is leaving the band. Marko, who was also the co-vocalist of Nightwish, cites disillusion and "chronic depression" for the decision to quit the band and leave the public eye after 20 years.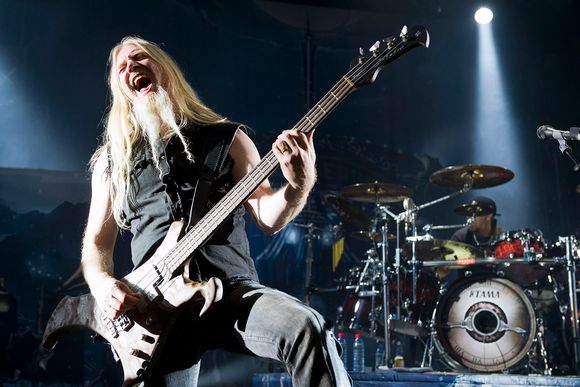 Marko released a lengthy statement on his Instagram page where he goes into detail about what happened that made him quit the band he played with for 20 years.
He talked about the change in the music industry, how he feels like that their music is not put at the forefront. The band was just used by promoters to squeeze out every single penny from the band.
"For a quite a few years now I haven't been able to feel validated by this life. We have streaming company big guns demanding 9/5 work from artists of inspiration while unfairly sharing the profits. Even among the artists. We're the banana republic of the music industry. Biggest tour promoters squeeze percentages even from our own merchandise while paying dividends to Middle East. Apparently some theocrasies can take the money from the music that would get you beheaded or jailed there without appearing as hypocrites. Just a couple of examples here."
He also went into detail about why he felt "burnt out" by this lifestyle. In addition, he talked about his chronic depression.
Marko said, "This past year forced me to stay home and think. And I found myself very disillusioned about these and a lot of things. I found out that I am in need of that validation. For me to write, sing and play, I need to find some new reasons and inspirations. "My Walden" so to speak. And it's even in my book that I'm a chronic depressive. It's dangerous for me and the people around me, if I continue. Some of the thoughts a while back were dark. Don't worry, I'm fine. I have my two sons, a wife, the rest of the family, friends, a dog and lots of love."
He asked everyone to respect his stance and not to contact him in this new year. Although, he mentioned briefly that he might come back to public life in 2022 but nothing is for sure yet. We will have to respect Mr. Hietala's decision. We will have to go back and listen through his catalog with Nightwish. Listen to live concerts (like the video above) and the 6 studio albums he recorded with the band.
To check out more news from Insta of Bass, click HERE.