5 Guns N' Roses Bass Lines That Will Blow Your Mind
In the late '80s early '90s, Guns N' Roses took the music scene by storm. They were the de-facto leaders of the Los Angeles glam rock movement. This new and unique style, which originated from the grimy clubs of Sunset Boulevard, shaped not just popular music but the world at that time.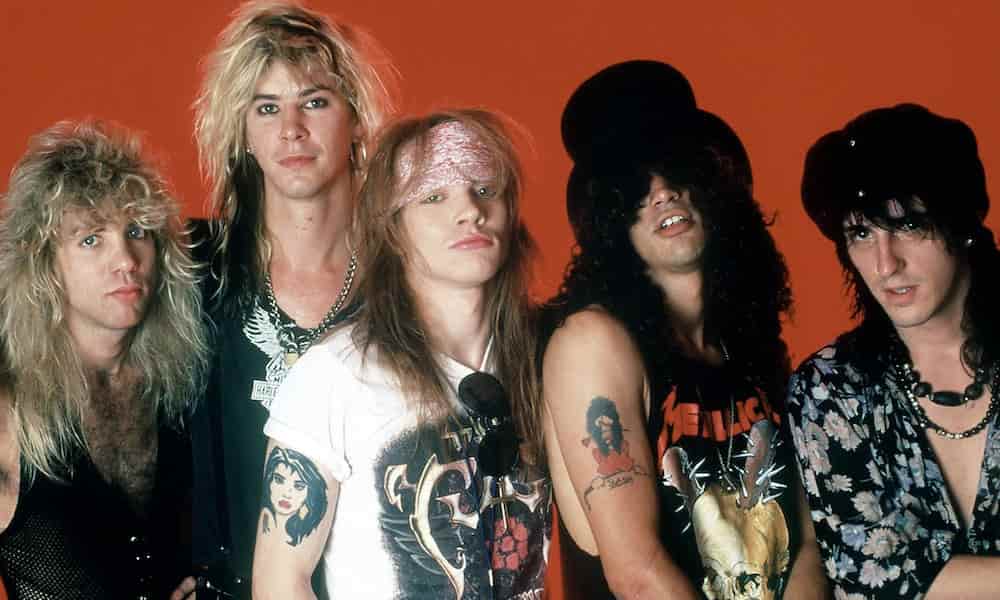 Starting with their infamous debut album, "Appetite for Destruction" they cemented their name in rock and roll history forever. That album went multi-platinum and the subsequent tour, together with their stage antics, earned them the label as "the most dangerous band in the world".
"Appetite for Destruction" is considered, by many, as one of the best debut albums in rock history. It also featured what is now called their "classic lineup". 
The band consisted of Axl Rose on vocals, Izzy Stradlin on rhythm guitar, Steven Adler on drums, Duff McKagan on bass, and Slash on lead guitar.
After heavy promotion and touring from the first album, fortunately, they followed up with an even more exciting release with the "Use Your Illusion" double album.
This album debuted at number 2 on the Billboard charts and even earned them a Grammy Award nomination. It featured singles such as "Don't Cry" and "November Rain", which are considered as some of their most famous songs of all time. It also got heavy air time from radio and tv stations further raising Guns 'N Roses's stock in the music business. 
Guns N' Roses were also known to include melodic and heavy bass lines in their songs, provided by Duff McKagan. 
Songs like "Sweet Child of Mine", which is one of their most famous songs even start with a bass solo. That is something you didn't hear in a rock song back in the late '80s early '90s. 
With this list, we tried to compile some of the most grooviest Guns N' Roses songs that feature amazing bass lines. Let's dive into it!
The first song on our list is coming from their "Use Your Illusion I" album. It features a heavy bass groove intro that carries throughout the song. This song is unique in many ways. It is their second-longest song at 10 minutes and 14 seconds. Another fun fact that this song doesn't have a chorus.
Next up we have their second single off their "Appetite for Destruction" album. This song reached the number 7 spot on the Billboard Hot 100 chart. It features a heavy yet bluesy bass line.
In 2009, it was voted as the greatest hard rock song of all time by VH1.
At the 3rd spot, we have "You Could Be Mine" which is from their "Use Your Illusion II" album. This is one of Duff's more in-your-face bass lines. He plays a pretty straightforward groove without a lot of fills but with a lot of attitudes.
Fun fact, this was the theme song for the Hollywood blockbuster Terminator 2.
And the silver medal goes to a classic rock anthem, "Paradise City". This song was featured as their third single from their renowned debut album.
After the lengthy intro, the bass comes in hard! It is one of Duff's heaviest grooves for sure. We can thank Slash for it, he was the one who came up with that riff.
And on the number one spot, we have a true classic, "Sweet Child of Mine". This song is a must-know for every rock bass player. The tune starts out with a guitar riff that also became a classic riff in rock music. After that, Duff comes in with a melodic bass solo over Slash's main riff thus creating a really unique soundscape, something we don't really hear that often in rock music.
"Sweet Child 'O Mine" became their first Number 1 US single and subsequently shoot them into stardom.
After listening through these 5 songs, you will know why is Duff McKagan regarded as one of the most unique and celebrated rock bass players of all time. His tone, which he gets from playing a classic PJ configuration Fender bass paired heavy plucking and using a pick served these songs perfectly.
We can hear that he has a broad knowledge of music theory that he uses exquisitely in his fills and grooves.
So what are your favorite Guns'n'Roses songs of all time? Let us know in the comments below.
To check out more articles from Insta of Bass, click HERE.