5 Motown Songs That Will Change Your Life
Berry Gordy founded Motown Records in the late '50s in Detroit. This record label was more than just a company, with their music, they undoubtedly defined the '60s and '70s decade. A lot of the early Motown songs are still being played to this day on the radio. Holland–Dozier–Holland was the songwriting/production team and the music was recorded by a group of musicians who called themselves The Funk Brothers.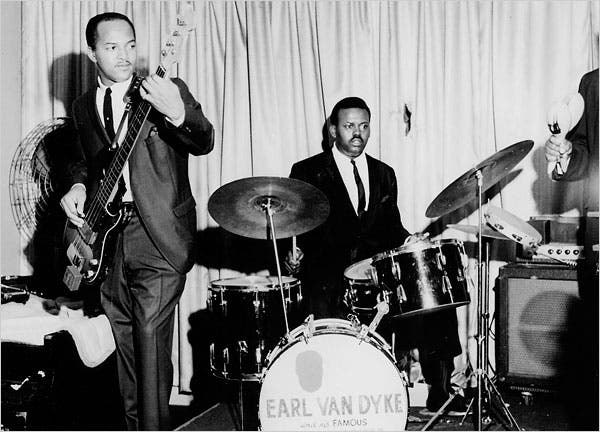 The Funk Brothers 
The Funk Brothers were a group of jazz musicians from the Detroit area who played on all the classic early Motown releases. Unfortunately, The Funk Brothers did not get credited on any of the Motown records. Marvin Gaye's 1971 album "What's Going On" was the very first album where their name was mentioned. 
This group of musicians basically crafted and arranged the Motown sound and were a big part of the record company. They were essentially jazz musicians at night, but during the day they would record hits at Motown's Studio A, which was dubbed the "Snakepit". One of the most notable members of The Funk Brothers was James Jamerson. 
He was the first bass player who elevated the role of the bass player. Before James Jamerson, the bass was restricted to the background. Only playing simple root notes, and simple rhythms. Jamerson, being a jazz musician himself, was more familiar with music theory and he would add more substance to these simple bass lines. He would add more chromatic notes, chord inversions, and rhythmic syncopations. Key part of the "Motown" sound was James's melodic bass playing. 
With this list, we tried to compile the 5 best Motown songs which heavily feature James Jamerson at his prime. After listening through these songs, you will know why James Jamerson was a big influence on bass players such as Paul McCartney Pino Palladino, Anthony Jackson, and Jaco Pastorius to name a few.  
Let's dive into it! 
1. Marvin Gaye - What's Going On
This 1971 release was the very first that credited all the musicians on the project. Check out this live version as well, this is one of the few videos of James Jamerson performing live. It's a must-watch – What's Going On LIVE! 
2. Darling Dear - Jackson 5
Fun fact about James Jamerson – Almost all of his bass lines were improvised. He would only get a chord chart and just come up with these masterpiece bass lines on the spot! This is one of the must-know bass lines for every bass player. Check it out and be prepared to have your jaw hit the floor! 
3. Diana Ross & The Supremes - How Long Has That Evening Train Been Gone
This is one of those not so well known James Jamerson bass lines, but it is a masterpiece as well. It contains everything that made Jamerson a legend. Chord inversions, lots of syncopations, and crazy chromatic runs. It is definitely one of our favorites for sure.
4. The Funk Brothers - Fever In The Funk House
This one is an interesting one. Although The Funk Brothers were the house band for Motown, they also released material under their own name as well. In this song, James takes a leading role, you can clearly hear his mastery at work. 
5. Stevie Wonder - For Once In My Life
Last but not least, we have Stevie Wonders For Once In My Life. Stevie Wonder started his career with Motown Records at the age of just 11. Back then he was already making hits with the Funk Brothers and this song is a masterpiece as well. In our opinion, this takes the crown in James Jamerson's career. 
James Jamerson was the main bass player for Motown until their 1970 move to Los Angeles. Although James did move to LA with the record company he struggled to find work. The music scene changed a lot since his Motown years in Detroit. It was more focused on the slap bass technique, which Jamerson did not do, so his style of playing was considered old school and fell out of favor in the studio scene. After struggling with alcoholism he died at the age of just 47 in Los Angeles in 1983. 
All of these songs were perfectly transcribed in the Hal Leonard – Standing in the Shadows of Motown book, which also inspired the movie of the same name. This movie is a must-watch for every music lover. Furthermore, in 2020, Rolling Stone magazine ranked James Jamerson #1 on its list of the 50 greatest bassists of all time. 
Leave a comment below and tell us which ones are your favorite Motown songs that features James Jamerson on bass, we would love to hear them! 
If you would like to see more video features from Insta of Bass, click HERE.