5 Marcus Miller Bass Lines That Will Change Your Life
Marcus Miller has the skills, the groove, and the imagination when it's time to come up with incredible bass lines. Some of his lines are now considered as some of the "classics" bass lines in modern music history. He has been landing dream gigs with artists such as Luther Vandross, Miles Davis, Herbie Hancock, Aretha Franklin, and Stevie Wonder since his heady introduction to the New York studio scene in the mid-70s, all while he was still a teenager!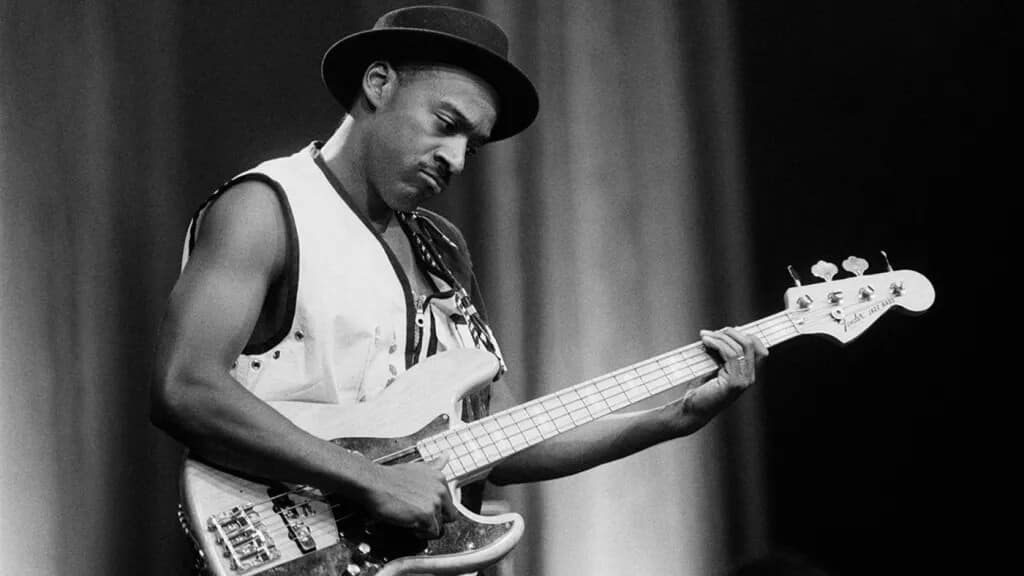 Marcus Miller 
Before he was old enough to drive, Marcus Miller was a regular performer in New York's jazz bars. He was born on June 14, 1959, in Brooklyn, and raised in nearby Jamaica by a highly musical family.
His musical upbringing was influenced by his father, who conducted a choir and played the organ. Furthermore, his cousin was jazz pianist Wynton Kelly, who is best known for his appearance on Miles' Kind of Blue. By the time he was a teenager, he could play a variety of instruments with ease. 
Marcus soon got steady work with Dave Grusin, Earl Klugh, Grover Washington, Jr., and as a house bass player with the Saturday Night Live band. His first big break came in 1981 when Miles Davis invited him to be part of his new ensemble, all while he's still only 22 years old! 
Since Marcus' career spans almost 5 decades it is really hard to come up with just 5 bass lines. But we tried to compile some of most iconic and legendary lines of all time. Let's dive into it!
Luther Vandross - She's a Super Lady
This list is in no particular order and our first song comes from Luther Vandross' Never Too Much album. She's a Super Lady features an incredibly aggressive slap bass line that carries the tune forward. Check out the fast pentatonic fills in the groove, a nice masterclass on how to play flashy while maintaining the pocket.
The second song on our list is the opening tune from Marcus Miller's M² album. This tune is a must-know for every bass player who wants venture into the land of slap bass. It features one of the most incredible slap bass riffs of all time. 
David Sanborn - Run For Cover
Run for Cover is a one of those classic Marcus Miller bass lines that everyone knows. But not a lot of people know that the first version of this tune appeared on David Sanborn's 1981 album "Voyeour". The album also won them a Grammy Award for Best R&B Instrumental Performance in 1982.
Luther Vandross - Never Too Much
Of course, this song had to be included on our list. This is also one of those "classic" Marcus Miller bass moments in music history. In our opinion, Never Too Much has one of the best bass lines of any R&B song ever, period. A true masterpiece. Furthermore, this song has become an R&B standard, widely played to this day. 
Last, but not least, we have Scoop from Marcus' 1993 album "The Sun Don't Lie". Check out the video above, where Marcus performs a solo version, just he and his Fender Jazz Bass. His time is just incredible in this video. I believe they set the atomic clock to his time and groove from this video. 
Bonus - Grover Washington Jr. - Just The Two Of Us
Nothing to say here, a classic song with a classic bass line! 
As a producer for Miles Davis, Luther Vandross, David Sanborn, Bob James, Chaka Khan, and Wayne Shorter, Marcus has been nominated for multiple Grammy Awards and has won two. In 1992, he received a Grammy Award for Best R&B Song for Luther Vandross' "Power of Love," and in 2001, he received a Grammy Award for Best Contemporary Jazz Album for M2, his seventh solo instrumental album.
To this day, Marcus Miller maintains a busy tour schedule. He is constantly releasing new music. His latest album "Laid Back" was released in 2018 and was nominated at 2019 Grammy Awards for Best Contemporary Instrumental Album.