5 Times Flea From The Chili Peppers Went BEAST MODE
There is little debate about how legendary Flea is. He is a multi-instrumentalist, a trumpet child prodigy, bass icon, and also (kind of) a movie star. I don't think many bass players in the music business have this wide range of talents.
I'm pretty sure everyone who reads this knows how renowned Flea's bass lines are.
He influenced a generation of bass players with his unique bass riffs. His compositions are melodic, fit in the song well, and also bring out the bass in the forefront.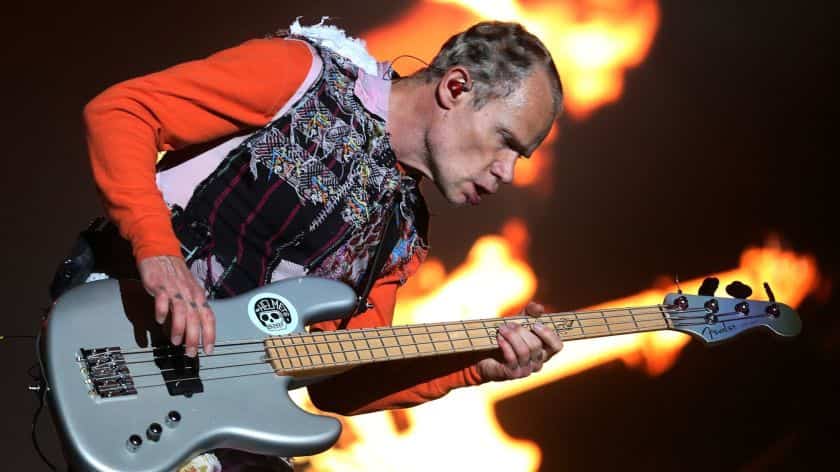 He has been slapping the bass and making hits with the Red Hot Chili Peppers since 1983. In the early days, he was the pioneer of the punk-funk genre. His aggressive slap bass style took the music scene by storm. There were no bass players in rock music who played like Flea. 
With their later releases, he explored different opportunities in his playing. He started to focus on a more melodic approach to his bass lines starting with their Blood Sugar Sex Magik album. But that didn't stop him to go all out and amaze the world with his incredible solos every once in a while! 
We already had an article that showcases his most memorable bass lines – You can check it out HERE. 
But we never focused on his mind-blowing soloing. Check out these clips of Flea going all-out BEAST MODE!
1. Extreme Slap Bass Solo
If there is ever a Hall of Fame of Bass Guitar videos, this one needs to be near the top. This video features a crazy-fast slap bass groove from the early days of RHCP.
Also, check out the solid groove by Chad Smith, one of the tightest rhythm section in popular music.
2. Distorted Bass Solo Intro
One of the best Red Hot Chili Peppers songs, in our opinion, is Around the World. It features one of the best bass lines in the RHCP catalog. Check out his solo intro to this song. 
Flea played many basses over the years. In the early days of RHCP, he was playing Music Man basses. Later he played Modulus, but now he teamed up with Fender to create this new signature bass.
3. Flea and Chad Smith Grooving
Here is Flea jamming for an instructional video with Chad Smith. Flea is playing his classic Music Man bass paired with the Electro Harmonix Q-Tron effect. 
4. Flea - Maggot Brain - Fender Signature Bass
Fender released the new Flea signature bass a couple of years ago. He went through a number of signature basses over the years, but finally settled with Fender. This new active Flea Signature Bass is a dream to play. If you ever have the chance to try it, go for it! 
Also check him out going classic beast mode in this solo rendition of Maggot Brain. 
5. National Anthem at a Lakers Game
Flea is a huge Lakers fan. One of his new Fender signature basses sports the Lakers logo and official colors. So it is not a surprise that they invited him to play the national anthem before a game in 2014.
He went total Flea-Beast-Mode with it. With his classic Lakers bass and distorted bass sound, he played one of the most impressive National Anthems ever at a Lakers game.