Happy Birthday To Conan O'Brien – Best Musical Moments
In our opinion, Conan O'Brien is one of the funniest and most entertaining TV personalities today. Conan has been the reigning king of talk shows for a quarter of a century! He has been the longest-serving late-night talk show host of all time. He has been making us laugh for over 25 years now.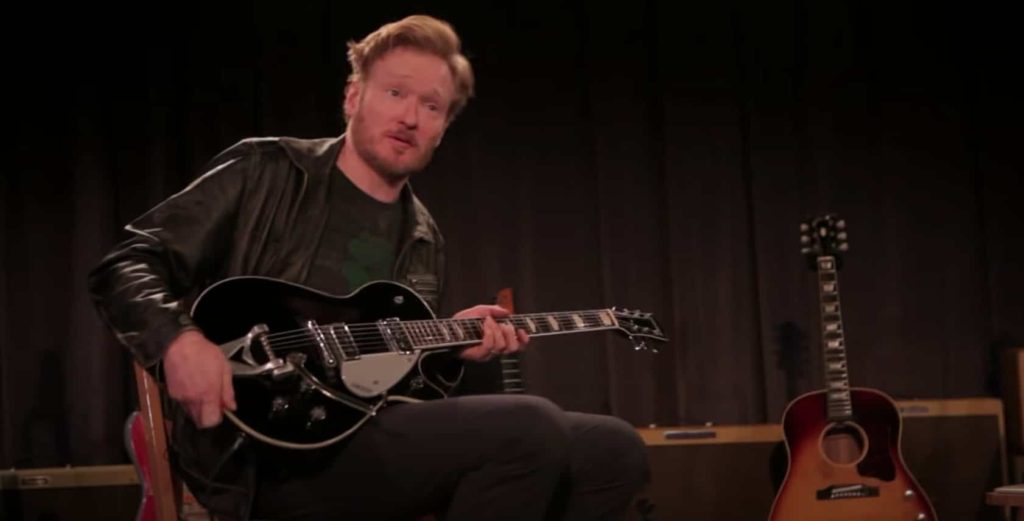 Before taking over David Letterman's Late Night Show, Conan O'Brien had several high-profile writing jobs. Starting with writing on Saturday Night Live and then on The Simpson.
After these brief writing gigs, he auditioned to be the new host of the Late Night Show, to his surprise, he got the gig at the age of just 29.
Did you also know that he is an avid guitarist? Conan is known for his love of blues and classic rock that he likes to showcase on his show as well.
He has been seen showing off his guitar skills in numerous sketches. From time to time, he also gives us quality insights into a musical topic, usually paired with his quirky comedic bits.
To celebrate his birthday, here are some of the most memorable and funniest guitar moments from his shows.
Conan & The Basic Cable Band - Run Run Rudolph
Here he is performing a classic song with his old house band, the Basic Cable Band. Unfortunately the Basic Cable Band is no longer Conan's house band since 2018 when he switched to a different running time. 
Conan & The Basic Cable Band - 40 Ways
Here is Conan performing again with the Basic Cable Band. This was their last performance on late-night TV. Check out the solos from all the band members. 
Conan and Jack Black Guitar Battle
Two comedic geniuses who are both rockers have a guitar duel. Check out the surprise ending, Conan had a bit of a help in this battle.
Conan Plays The Blues With Lil 'Ed
This is one of his musical sketches from his show. He meets with a real blues singer and guitarist for a jam session. He also tries to teach us something about the blues, paired with his quirky comedic bits.