Red Hot Chili Peppers Songs That Will Change Your Life
The Red Hot Chili Peppers have been active since the early '80s. That was when four friends from high school started a band as a joke for a one-time performance.
Together with their energetic live shows and their new and unique sound they took the music scene by storm and soon become a staple in the LA music scene. The band, that was only supposed to play a one-time show, soon turned into a real band and gained a large number of followers in the underground music scene of LA.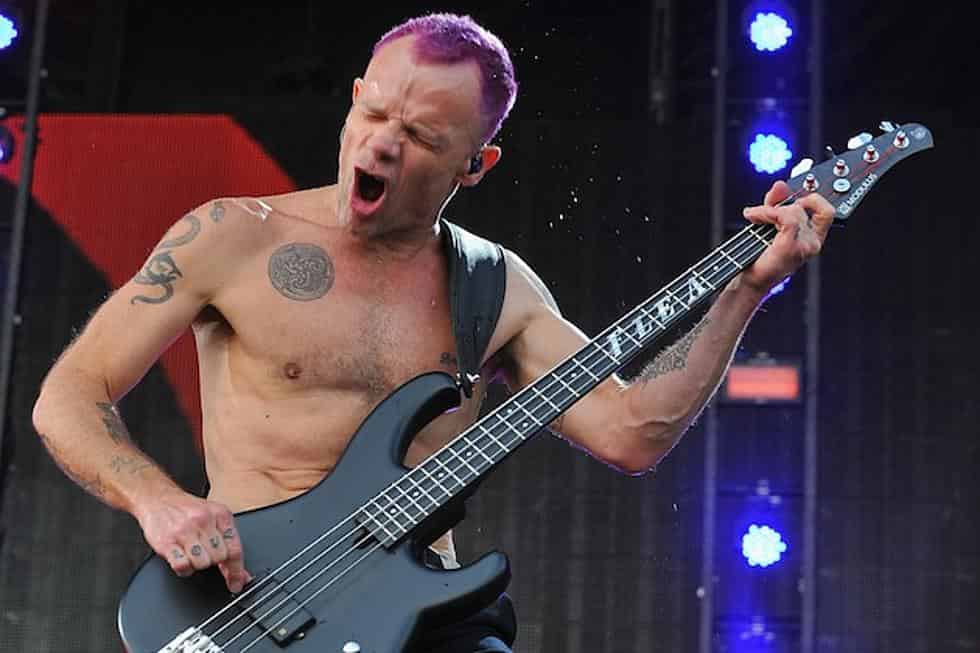 Without a doubt, one of the most distinctive parts of any Red Hot Chili Peppers song is the bassline, provided by Michael Balzary, better known as Flea. Their basslines are the very first thing any listener notices and is the driving force behind most of their songs. 
His powerful slap bass lines together with his ability to come up with melodic and singable riffs make him one of the most unique bass players in the world.           
Red Hot Chili Peppers 
The band was formed as a side project by four high school classmates; Anthony Kiedis, Hillel Slovak, Flea, and Jack Irons. They first took up the name "Tony Flow and the Miraculously Majestic Masters of Mayhem", which doesn't really roll off the tongue. Fortunately, soon after their first couple of gigs they changed it to "Red Hot Chili Peppers".
Before picking up the bass, Flea was an accomplished jazz trumpet player. Influenced by his step-dad, who was a jazz musician himself, he took up the trumpet at an early age and was considered a child prodigy, performing several jazz gigs.   
After meeting Hillel Slovak, who taught him how to play bass, Flea was introduced to many different genres of music. At that time his main influences were gritty '70s punk bands and the groovy funk music of the '60s and '70s.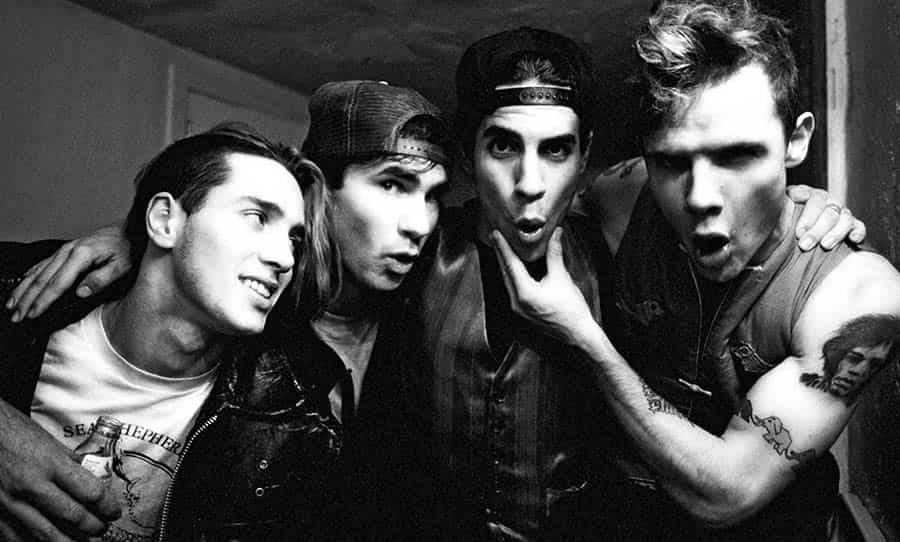 Over the years, and many band members changes later, Red Hot Chili Peppers became one of the most successful bands in history. They sold more than 80 million records, had 13 number one singles, and won 6 Grammy Awards. Furthermore, in 2012 they were inducted into the Rock and Roll Hall of Fame.
In this list, we tried to collect the 10 most famous and significant bass lines composed and recorded by Flea. We know that all of Flea's bass lines are iconic in their own way but these 10 songs summarize why he is regarded as one of the best bass players of all time. 
The very first song on our list is one of Flea's early bass lines. "Get Up and Jump" is the first single on their debut album of the same name. It is crazy to think that Flea has only been playing bass for a year or two when he composed and recorded this bass line.
Check out this live version of "Get Up and Jump" with Flea playing a P Bass! 
"Under the Bridge" doesn't have a virtuosic and heavy, in-your-face bassline like "Get Up and Jump", but it is still one of the all-time classic Flea bass lines. It is one of their most recognized songs coming from their "Blood Sugar Sex Magic" album. It peaked at the second place on the Billboard Hot 100 charts. 
In this song, Flea plays a melodic bass line that serves the song perfectly. He holds back from playing fills and lets John Frusciante's guitar playing and Anthony Kiedis' lyrics shine.
The next song on our list is "Scar Tissue" which is their first single from their "Californication" album. This song spent a record 16 weeks on top of the Billboard charts. 
This bass line is interesting because Flea incorporates playing chords on the bass. Usually, you do not hear a lot of chordal playing on bass guitar because of their low register, but Flea makes it work exquisitely.
Next up we have a cover song. Stevie Wonder wrote this song for his 1973 album "Innervisions". The Red Hot Chili Peppers covered this song for their "Mother's Milk" album and released it as its first single in 1989.
RHCP's version is by far one of the most famous cover versions of this song. It also has an "in-your-face" slap bass line that carries throughout the whole song.
In 6th place, we have probably one of their most famous songs of all time. This song has been a staple in their live shows, making an appearance on almost every live setlist since its release.
It features a really melodic bass line, a must-know riff for every bass player. Check out their trippy "video game" music video above.
And we are down to the top 5 songs. In 5th place, we have "Aeroplane". It comes from their "One Hot Minute" album which features Dave Navarro on guitar who replaced John after his first departure from the band.
Even though they do not play this song live a lot, this is still one of the best Flea bass lines of all time. This song features a great intro bass solo followed by a heavy slap bass line. It also features a bass solo, what else we need?
Next up we have their first single off their eighth studio album, "By The Way". This song also features a heavy yet funky bass line but this time it is played fingerstyle and not slapped. Flea detunes his bass to get that extra low notes in the main groove. It surely gives the song the push it needs.
At 3rd place, we have another one of their hits. "Can't Stop" has been their opening song at live gigs for many years. It also comes from their "By The Way" album that was released in 2002. "Can't Stop" features a bass line that is a must-know slap line for every bass player.
And the silver medal goes to….. "Around the World". It is their second single off their "Californication" album.
This song starts with a heavy fuzz-driven bass line that sets the tone for the rest of the song. It is one of Flea's signature bass lines for sure. This song has also been a fan favorite, and they always make sure to play it at live shows.  
And Finally, on the number one spot, we have "Give It Away". This song comes from their renowned "Blood Sugar Sex Magic" album.
It features a heavy, yet melodic and catchy bass line that carries the whole song forward. Giving enough space for John's entrancing guitar part, Chad's heavy groove, and Anthony's rapping like vocals.
It is really hard to highlight just 10 songs that showcase Flea's incredible talent. This list could have been a lot longer but in our opinion, these 10 songs sum up why is Flea one of the most respected and celebrated musicians/bass players of all time. 
To check out more articles from Insta of Bass, click HERE.