Bob Marley Songs We Never Get Tired Of
Bob Marley was one of the most influential artists of the 20th century. During his short time on this earth, he cemented his name as one of the most legendary artists of all time. A title he will keep for centuries.
Apart from being a leading figure in popularizing reggae around the world, he was also an outspoken political activist. With his inspiring statue and his Rastafarianism messages, he became one of the most influential figures in not music, but in the world.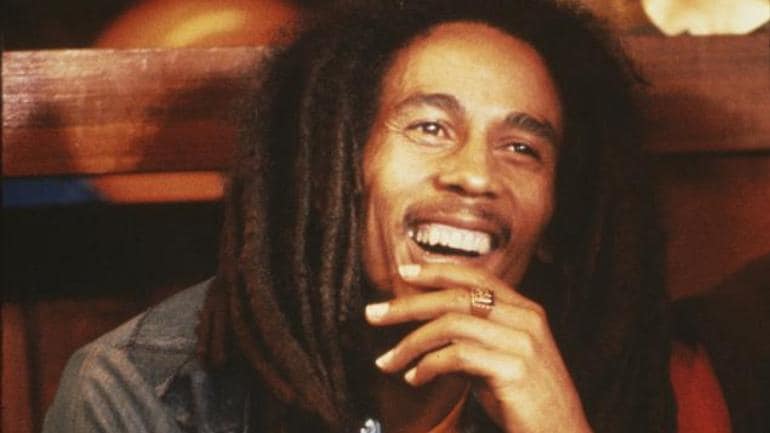 Bob Marley and the Wailers 
In the early '60s a group of friends, in Kingston Jamaica, started a band that would change the world in the next 20 years. They went through several names before settling on calling themselves the "Wailers".
This initial band consisted of Bob Marley, Bunny Wailer, Peter Tosh, Junior Braithwaite, Beverley Kelso, and Cherry Smith.
Even though this initial lineup was short-lived, they achieved some recognition. Even reaching the number one spot on the Jamaican music charts.
After many lineup changes and albums later, the Wailers became Bob's backing band. Soon after, they started recording music under the name "Bob Marley & The Wailers".
It was during the '70s when Bob teamed up with brothers Carlton and Aston Barrett. Aston became the principal bass player, architect, and producer of all Bob's songs going forward.
It was during this time when Bob Marley's career took off. Soon after, he released "No Woman, No Cry" which made him an international superstar.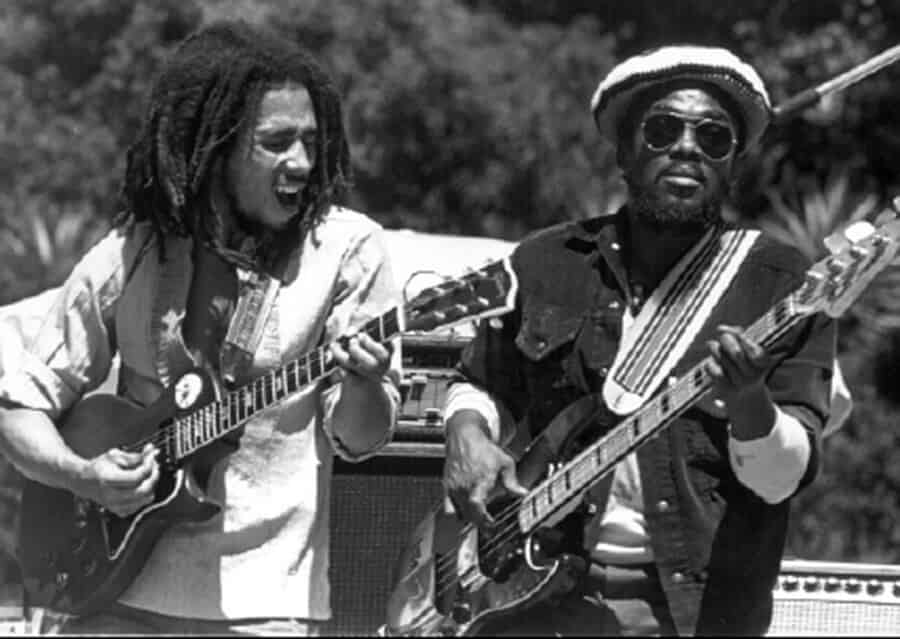 With this list, we tried to come up with 5 songs that represent Bob Marley and his legacy. Also, all these songs have incredible bass lines that were composed and played by Aston "Family Man" Barrett.
Let's dive into it!
The first song on our list is his 1976 song "War". This song is politically fueled, as its lyrics are an identical transcription of Haile Selassie's 1963 UN speech. Selassie's original speech discussed the end of international exploitation of African countries.
Check out this great live version recorded in 1977 in London.
"Small Axe" was released on Bob's 1973 album Burnin'. This is song became an anthem for everyone who was fighting a bigger enemy in the '70s Jamaica and beyond. 
At that time the "Big Three" record labels controlled Jamaica's music business. This song was their answer for their suppression of independent artists.
In the third place, we have one of Bob Marley's best-known songs "Is This Love". It peaked at number 9 in the UK. This song was written for Bob's wife and bandmate, Rita.
Also, check out the amazing bass line played by Aston Barrett.
Next up we have a classic Aston Barrett bass line. This is one of the finest examples of reggae bass line ever created.
Fun fact, Aston's nickname is "Family Man" or "Fams". He got this nickname even before having any children since he acted as the de-facto leader of the Wailers.
Although Aston later lived up to his nickname, as he fathered 41 children.
We know, on the top spot we have a cliché song, "No Woman, No Cry". Although a well-known song, it has everything Bob Marley embodied.
A lot of people misunderstand the lyrics of this song. Bass player, Aston Barrett in an interview was asked about the meaning of this song, he said "The song is about the strength in the mama, of course, strength in the ladies. And we love a woman with a backbone. Something like a wishbone!"
He also added, "They have to be like a she lion! Woman strong, you know, not depending on the man. Of course, the man is there to help you, then for every successful man, there is a good woman."
Unfortunately, in 1977, Bob Marley was diagnosed with rare skin cancer. He died as a result of this illness in 1981 at the age of 36.
His greatest hits album became one of the best-selling reggae albums of all time. Furthermore, he is a Rock and Roll Hall of Fame-induced artist. He is also considered as one of the greatest musicians of all time by many experts and polls.
Leave a comment below and tell us if you agree with our list. Also, let us know what are your favorite Bob Marley & The Wailers songs of all time.
To check out more articles from Insta of Bass, click HERE.