Did MXR Just Release The Best Phaser Pedal?
The MXR Deep Phase Pedal is now available! It combines distinctively expressive vintage phaser tones with MXR's legendary build quality and tweakability.
Vintage voice with a twist
The Deep Phase's sound is crystal clear, with a strong swoosh, scooped midrange, and dynamic, voice-like response to your attack. It's based on an iconic vintage circuit. This pedal will adjust to your playing intensity, whether you're pressing in for thick, flowing chords or slowly creating soothing textured melodies. It also sounds great on bass since it tracks the low end of the spectrum really well. The Deep Phase Pedal has been meticulously crafted to match your level when you kick the switch, unlike the original, which had a significant volume reduction when engaged.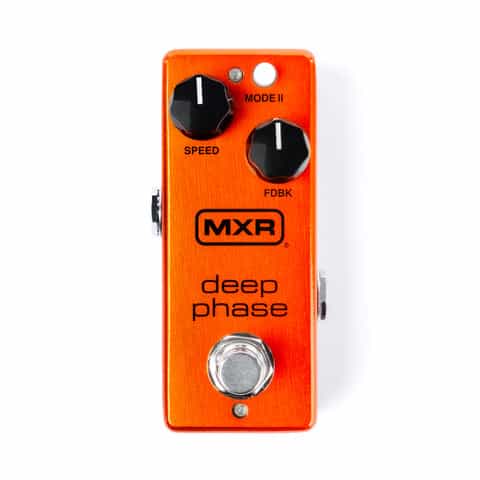 From smooth, subtle to tumultuous and intense, there's something for everyone.
The Deep Phase Pedal gives a wide range of phase tones, from delicate liquid shifting to thick, swirling turbulence, with just two knobs and a switch. The FDBK knob controls the intensity and sharpness of the phase peaks, while the Speed knob controls the effect rate. For a seamless effect, the Deep Phase Pedal defaults to four phase shifter stages. The Mode II setting increases this to eight steps, giving you twice as many peaks and a more dynamic texture.
Specs 
Vintage phaser tones with quick and simple tweakability
Your attack is met with a dynamic, voice-like response.
Sounds great on both guitar and bass
The FDBK knob controls the phaser's intensity.
The Mode II switch alternates between a smooth and textured look.
MXR construction quality is unrivaled.
MXR small housing is pedalboard friendly.
STREET: $129.99 MSRP: $185.70
To find out more go to their website – www.jimdunlop.com 
To see more fx-pedal articles from Insta of Bass, click HERE.