Ernie Ball Unveils John Myung Signature Bass
The days when Ernie Ball would not make signature basses are over. Ernie Ball Music Man has only released a handful of artist models, most notably the Joe Dart and Mike Herrera signature models. They did it again with a long time Ernie Ball Music Man user, John Myung of Dream Theater. Together they came up with his signature bass the John Myung Bongo 6 HH.
The company describes it as "The John Myung artist series Bongo is a sleek, ultra-modern 6 string bass crafted and perfected to John's exacting specifications. With over a decade long refinement process, John and the Ernie Ball Music Man engineering team have addressed a multitude of design features to further enhance comfortability, playability, and overall performance."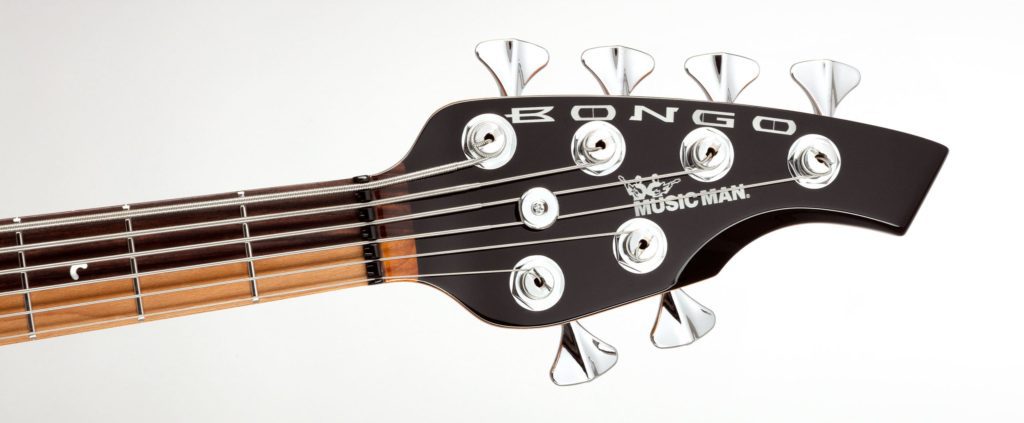 Very first thing that struck our eyes was the simplicity of the control knobs, only a volume, and a 5-way switch knob, the latter controls the pickup blend. The body has been streamlined and the nut width is closer to a 5 string width than it is a 6 string. This way we can get a lot tighter string spacing. The neck is made of two kinds of wood, roasted maple and rosewood combined, which gives a really interesting visual look for this bass.
Watch this quick video of John testing it out:
Specs 
Body Wood – Basswood
Body Finish – High Gloss Polyester
Body Colors – Black
Bridge – Music Man chrome plated, steel bridge plate with stainless steel saddles
Pickguard – Black
Scale Length – 34″ (86.4 cm)
Neck Radius – 11″ (27.9 cm)
Frets – 24 
Neck Width – 1-3/4″ (44.5 mm) at nut 2-13/16″ (71.4 mm) at last fret
Neck Wood – Roasted Maple Neck
Fingerboard – Rosewood/Roasted Maple
Neck Color – Natural
Tuners – Custom Music Man, lightweight with tapered string posts and ergonomic design
Neck Joint – 5 bolt, sculpted neck joint
Controls – Volume, Switching 5-way pickup blend knob
Pickups – Dual Humbucking with Neodymium magnets
The Ernie Ball Music Man John Myung Bongo 6 HH is available to order now for $2,999 and ships within three months.
Check out their website HERE if you would like to find out more about this bass!