Godin Unveils Redesigned A4 and A5 Bass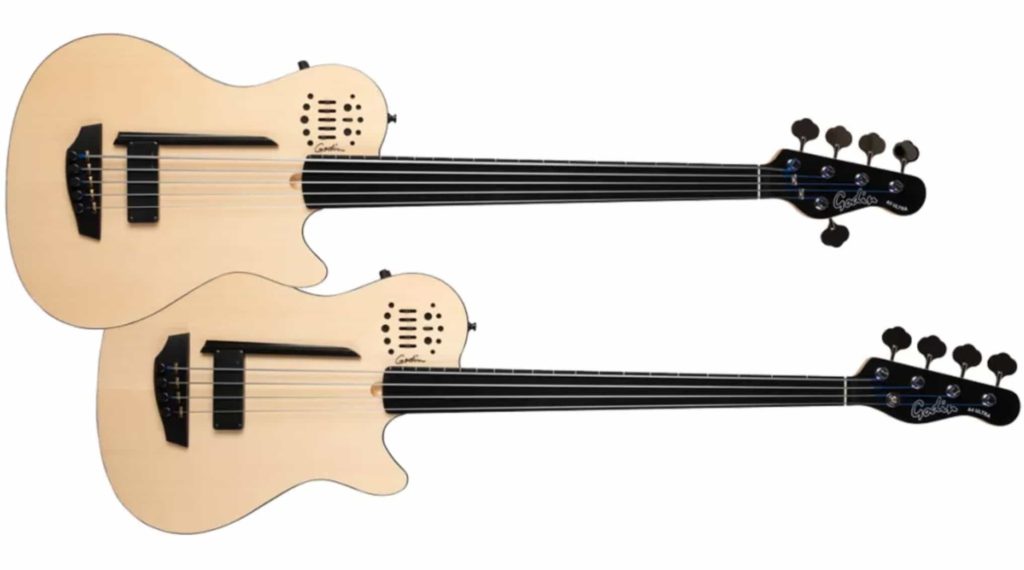 The A4 Ultra Natural and A5 Ultra Natural are two semi-acoustic, fretless basses that come in four- and five-string versions, respectively, and have some really easy onboard controls.
Before we check under the hood, let's have a look at the construction. The bodies of both basses are made of two-chambered Canadian Laurentian basswood, with a solid spruce top, bolt-on hard rock maple neck, and a 16″-radius Richlite fretboard.
A top-mounted thumb rest, Graph Tech nut, and an ebony bridge round out the features.
Each bass has a two-voice pickup system with a low-profile Lace Sensor magnetic pickup and unique LR Baggs saddle transducers for tone. Both are believed to have slightly nuanced tonal characteristics, with the former striving for a more current and dynamic sonic spectrum than the latter.
The LR Baggs saddle transducers are also determined by the custom-designed top-mounted preamp system, which is controlled by two Lace Sensor-specific side-mounted volume and tone knobs.
The A4 and A5 both have a Fat Switch that may provide a mid-low boost, as well as four ergonomic slider mechanisms for adjusting Volume, Treble, Mid, Bass, and a warmth-inducing Saturation setting.
The A4 Ultra is presently available for $2,150, while the A5 Ultra is priced at $2,300.
To check out more bass guitar features from Insta of Bass, click HERE.