Orange Bass Butler Bi-Amp Preamp Pedal
Earlier this year, Orange unleashed the Bass Butler, an entire Bi-Amp bass rig in a pedal. The new pedal splits the bass guitar signal, at the input, into completely separate, parallel, analog signal chains, just like a real bi-amp rig – without an amp in sight.
The always active 'Clean' Bass Channel can be adjusted for compression, bass, treble, and volume. An optical compressor circuit, cut/boost tone controls, and dedicated, bass cabinet-simulated balanced D.I. output is always on hand with all manner of classic clean tones.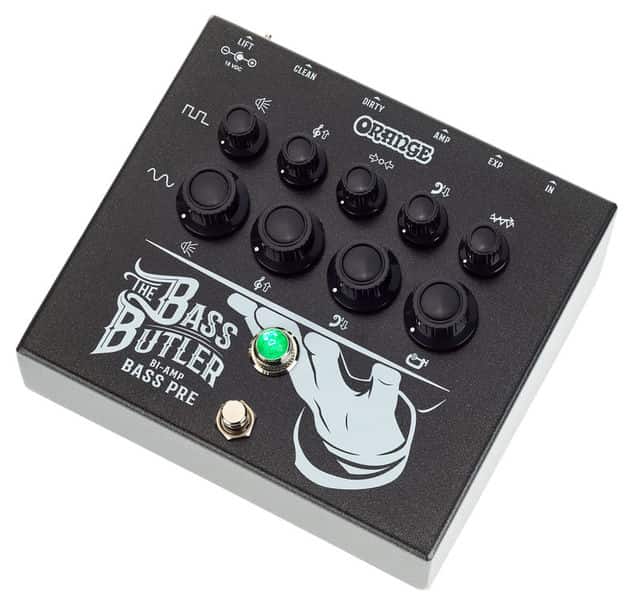 About the pedal
Five smaller knobs control the Volume, Treble, Middle, Bass, and Gain (with four stages), of the Bass Butler's 'Dirty' Guitar Channel which can be added with a footswitch. Coupled with a guitar cab-simulated balanced D.I. output and an expression pedal jack for extra control over the input gain, the Bass Butler serves up everything from bright vintage tones to floor-splitting, wall-crumbling modern destruction.
Both channels have XLR balanced output allowing the Bi-Amp bass tone to arrive complete at the mixing desk. The Bass Butler also features an Amp output, which takes a blend of the two channels, set by the volume controls, before the cabinet simulation circuits from a 1/4" jack, making it perfect for connecting to the front end of any bass amp. This set up means on-stage sound can be controlled completely independently of what the audience hears or the output can be used on its own, just like a plain old preamp pedal. A 'Ground Lift' switch eliminates ground hum when the Bass Butler is hooked up to a PA and a bass amp at the same time.
Check out this short demo of the Orange Bass Butler Bi-Amp Pedal:
In conclusion
The pedal's sturdy steel enclosure is made to last a lifetime; it is perfect for in the studio and on the road. The Bass Butler is quite possibly the only pedal bassists will ever need. Check out their Website HERE to find out more. 
To check out more FX pedal articles from Insta of Bass, CLICK HERE.