Thundercat Ibanez Signature Bass – TCB1006
This week we are featuring the Ibanez Thundercat signature bass. Ibanez calls this bass the TCB1006. We had the chance to play this great bass at the Winter NAMM Show this January and the first thing that struck us is the enormous size of this bass. This instrument features a huge hollow body design. The neck is really wide, I would say even wider than a normal six-string bass we are used to.   
Thundercat is known for playing extended-range basses, so it made sense for his custom signature bass to feature six strings as well. The bass is made in Ibanez's Japanese custom shop workshop. It features curly and quilted maple woods for the body. The neck is made of maple/purpleheart set-in neck with bound rosewood fingerboard. The neck also features acrylic block inlays.

Because of the enormous size of this bass and to avoid neck-dive, Ibanez made sure to include some lightweight tuners. They equipped this bass with the lightweight Hipshot Ultralite Tuners. These tuners help cut down the weight of the neck and provide a great balance for this hollow body, six-string bass design.
Furthermore, the pickups feature Ibanez's Graph Tech Ghost Saddle pickups. These pickups offer more broad tonal variations for this bass. Together with the magnetic tonal options, the Graph Tech Ghost pickup system lets you choose from a Piezo and Midi output together with the classic pickup configurations. The regular magnetic pickups are a pair of EMG 45HZ pickups. These extra options give you a lot more choices in the tonal spectrum than a regular bass.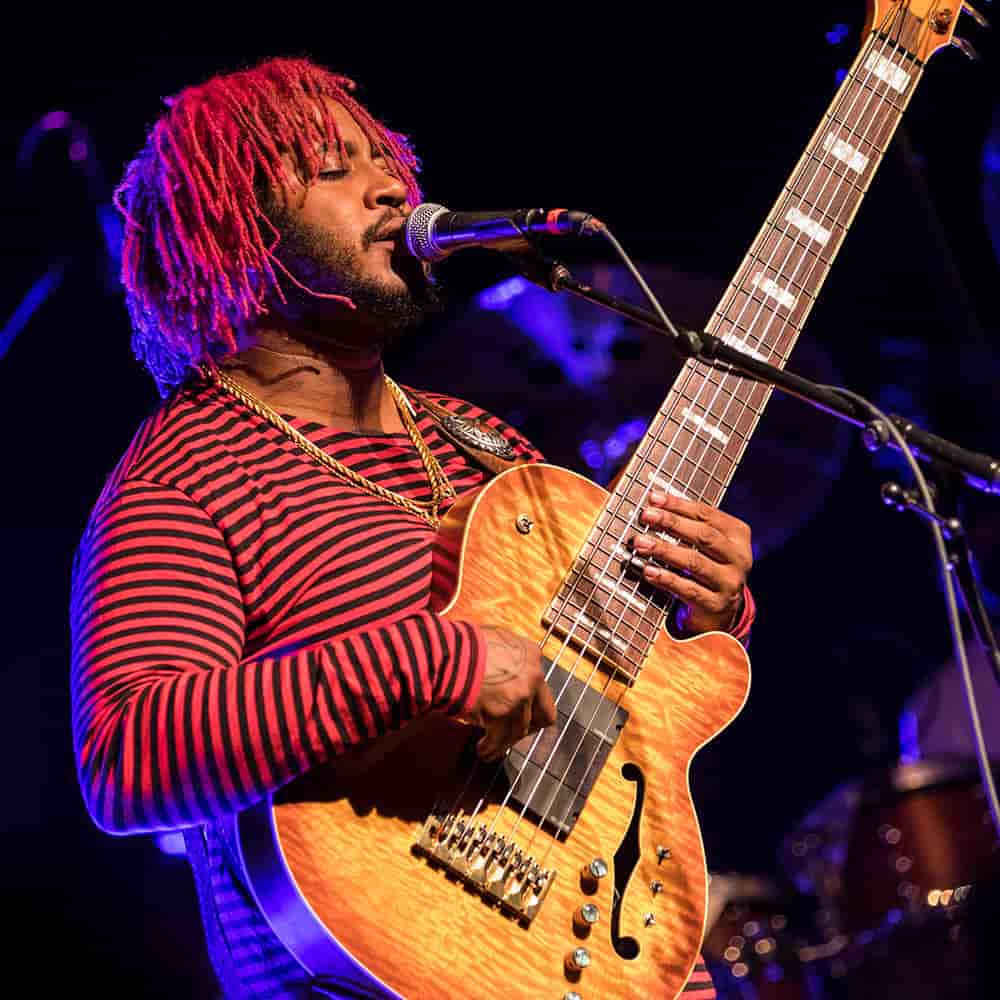 The four knobs control the magnetic pickups, magnetic tone, Piezo pickup, and the Midi pickup of the bass. Furthermore, there are four switches on the instrument. The switch on the upper horn of the bass controls the pickup selection. The 3 switches on the lower side of the bass control the Midi part of the instrument. The Midi switches include selector switches, Midi program up and down, and Midi Eq on board of the bass.
Specs 
Neck Type: TCB5pc Maple/Purpleheart set-in neck
Body: Quilted Maple top, Curly Maple back, Curly Maple body
Fretboard: Bound Rosewood Acrylic block inlay
Fret: Jumbo frets Prestige fret edge treatment
Number of Frets: 24
Bridge: Hipshot A-style bridge w/Graph Tech Ghost® Saddle pickup
String Spacing: 19mm
Neck Pickup: EMG® 45HZ neck pickup Passive
Bridge Pickup: EMG® 45HZ bridge pickup Passive
Equalizer: Graph Tech Ghost® modular pickup system
String Gauges: .029/.049/.069/.089/.109/.128
Hardware Color: Gold
About Thundercat 
Thundercat first came to prominence as a member of Suicidal Tendencies. Since then, he has released four studio albums and has collaborated with many artists over the years. Most notably with Erykah Badu, Kamasi Washington, and Mac Miller to name a few. He is also noted for his work with Kendrick Lamar. He has appeared on Kendrick's "To Pimp a Butterfly" album, for which he won a Grammy Award.
As an artist, he released 4 albums under his name – The Golden Age of Apocalypse, Apocalypse, Drunk, and It Is What It Is. With the latter album getting a Grammy nomination in 2020 for Best Progressive R&B Album.
To check out more articles from Insta of Bass, click HERE.