2022 Super Bowl Halftime Performers Revealed!
Dr. Dre, Snoop Dogg, Eminem, Mary J. Blige, and Kendrick Lamar will take the world's biggest stage at SoFi Stadium in Inglewood, CA on Sunday, Feb. 13, 2022, for the Pepsi Super Bowl LVI Halftime Show, which will air on NBC.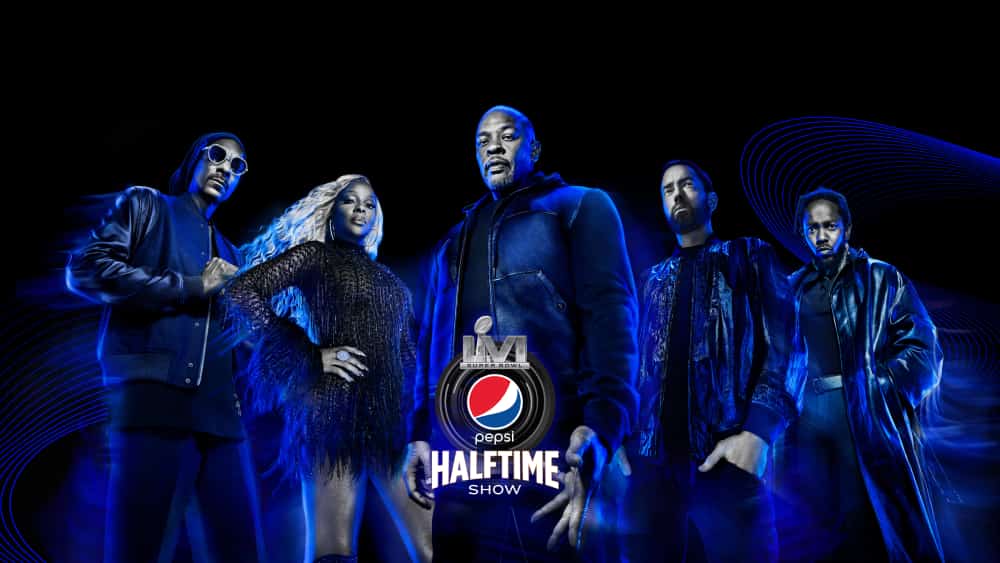 The Pepsi Super Bowl 2022 Halftime Show will be the first time these five multi-award-winning performers will perform on stage together, and it will have a special meaning for the Los Angeles community since Dre, Snoop, and Lamar are all native Angelenos, and the city is hosting the Super Bowl for the first time in nearly three decades. The performers have received a total of 43 Grammy Awards and had 22 No. 1 albums on the Billboard 200.
Pepsi and the NFL have teamed up to support the opening of Regional School #1, a magnet high school in Los Angeles that will open for students next year as part of the L.A. Unified School District, as part of the Pepsi Super Bowl Halftime Show cooperation. The high school is modeled after the USC Iovine and Young Academy, a program developed by Jimmy Iovine and Dr. Dre that will provide a unique educational paradigm centered on Integrated Design, Technology, and Entrepreneurship.
Pepsi and the NFL will cooperate with the school, its partners, and the local community to develop and offer community-inspired practical learning experiences and industry internships, in addition to charitable support for this project.
Los Angeles Unified Interim Superintendent Megan K. Reilly stated, "This program will assist create and encourage the next generation of entrepreneurs and innovators." "We are looking forward to the new opportunities this relationship will provide for our students."
Check out the top 10 Super Bowl Halftime shows of all time below. 
Pepsi, the NFL, and Roc Nation are delighted to bring these genre-defining artists together for this colossal performance of hits from their vast collective catalog for the third year of this collaboration. The Weeknd, Jennifer Lopez, and Shakira were featured in previous collaborations in 2021 and 2020, respectively.
DPS will produce the Pepsi Super Bowl LVI Halftime Show broadcast, which will be directed by Hamish Hamilton and executive produced by Roc Nation and Jesse Collins. Roc Nation is also assisting as the live performance's strategic entertainment advisors.
To check out more news stories from Insta of Bass, click HERE.