5 Chic Songs That Will Make You Dance
In 1970, two young New York City session musicians teamed up and formed a band called The Boys. It was in this band where Nile Rodgers and Bernard Edwards first started their songwriting and producing partnership. Little did they know that their friendship will last a lifetime and their band "Chic" would change the music world.  
After The Boys, they were apart of a number of groups and even had some hit records. They achieved all this as session musicians way before they formed their now infamous band, Chic.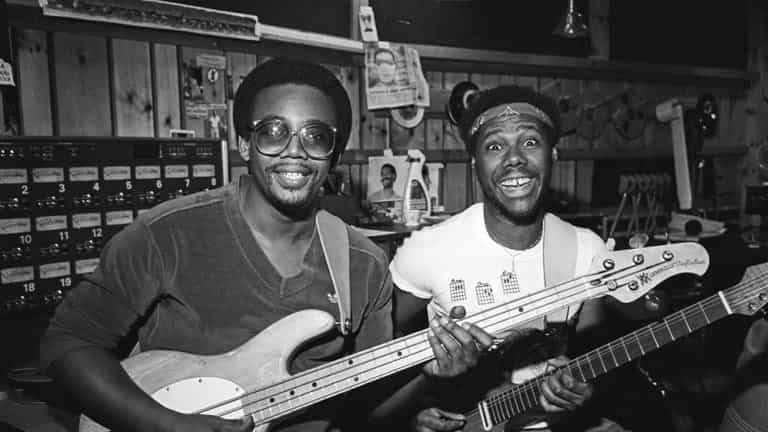 Chic

– The Band
As we said before, Nile and Bernard went through many ensembles together. With their own bands, they were usually playing rock and jazz-fusion. They would also do session work and go on tour backing up singers.
It was during the late '70s when Nile Rodgers had an idea to create a new band. Nile formed a new group with his right-hand man, Bernard Edwards. He chose the name Chic because it sounded ambiguous to the public. He also wanted to make the band sound more sophisticated by choosing a French-sounding name.  
Since they were producers as well, they had a deep understanding of arrangements and instrumentation. They created their version of disco music. This new sound was different from all the producer-oriented songs of that time. It focused on the essentials of a groove, a catchy guitar riff, and an even catchier bass line. 
Their new sound took the disco scene by storm. Their self-titled debut album already solidified their name in the music business. After the success of their first album, they released several more records. All of them containing hits after hits. The partnership between Nile Rodgers and Bernard Edwards was prolific. Their songs became some of the most well-known disco songs of all time.
With this list, we tried to compile the five best Chic songs that will make you hit the dance floor for sure! 
So that being said, let's dive into the five most groovy Chic songs of all time. 
5. Dance, Dance, Dance (Yowsah, Yowsah, Yowsah)
The first song on our list is their very first single in the United States. It became a national hit, reaching number 6 on the pop and R&B charts.
It has a static disco beat with a fiery bass line. This challenging bass line is what gives this song its groove. As the name of this song suggests, you won't be able to sit still. We promise. 
Fun fact, that Luther Vandross sang backup vocals on this song. He was working as a session singer at that time. 
Next up, we have another dance song. This song was their second single after Dance, Dance, Dance. Their second single also became a national hit. It reached the 38th spot on the Billboard Hot 100 charts. Nile and Bernard were master musicians and producers. The first two singles they released with Chic became hit records. That is something not a lot of people can say they achieved. 
This song also has a unique and challenging bass line. Dance, Dance, Dance, and Everybody Dance both use his signature "Chucking" technique. It gives the song the push it needs.
In third place, we have a single from their second album. I Want Your Love topped the Billboard chart in many different categories. This song is considered by many as disco's timeless hit record. Its sound is contrasting with Chic's previous releases. It has a more melancholic feel to it, with ageless lyrics describing unrequited love.
Fun fact; that Nile Rodgers dreamt this song note-for-note. He said in an interview with Uncut that, "I used to sleep with score paper next to the bed, and I wrote out the whole score paper next to the bed, and I wrote out the whole score the next day. We went in and played what I dreamt."
In the second place, we have their first big hit, Le Freak, from their second album. This song commemorates the '80s disco lifestyle. It is about the infamous club, Studio 54, and when Nile and Bernard were denied entry. 
It was their first song to reach the number one spot on the Billboard Hot 100 R&B charts. 
And finally, we have a true classic, Good Times. This song, without a doubt, was one of the biggest hits of their career. It sold more than 5 million copies making it one of the best-selling singles of that time.
Its bass line is one of the most iconic parts of this song. This song was the main sample for Rappers Delight, the first hip-hop song that entered mainstream popularity.
By reaching the top 40 charts in many countries, it introduced this new genre to the masses.
Sugarhill Gang technically "stole" this song and used it without Chic's permission. They were sued by Nile and Bernard but they later settle with getting songwriting credit. 
Chic was undoubtedly one of the most successful disco bands of all time. Their songs are also some of the most covered and sampled songs in history, especially in the hip-hop genre. 
Bernard Edwards's bass lines would go down in history as some of the most sampled and covered riffs of all time. Unfortunately, Bernard died at the young age of 43 after a Chic concert in Japan.
To check out more articles from Insta of Bass, click HERE.