5 Custom Shop Basses That Will Blow You Away
People tend to have a love-hate relationship with boutique "Custom Shop" bass guitars. There are players who swear by the vintage instruments. We are talking here about players that prefer the '50s and '60s Fender Basses because of their true "played in" feel and superb tone. 
There are also players who prefer the more modern take on these classic instruments. A lot of new basses are being released that are modeled from these vintage instruments. There is a lot of debate about the "Vintage vs Modern" sound out there so we won't get into that in this article (maybe in the future we will do a similar comparison).
No matter what option you choose, both lack one thing, and that is customizable options. Here is where boutique basses come into the picture. Boutique or custom shop basses are all hand made instruments made from the finest materials available to the makers. These basses are highly customizable and are exactly made for the player's specifications. Do you want a 7 string, fretless, extended-range bass with exotic top woods? Custom basses are the way to go.
In this list, we tried to find the most interesting looking custom basses out there. Some of these are guitars are art pieces in their own way. Let's dive into it!

The first bass on our list is this epic piece built by Fodera Guitars. Fodera releases these "Masterbuilt" series basses a couple of times a year, all of which are unique art pieces. This guitar was inspired by the AJ Presentation "Hybrid" bass. The first thing that catches our eyes is its unique silhouette which was designed for better ergonomic comfort. Because of its unusual shape the bass allows access to the entire range of the instrument.
It also has a headless design which tends to be really popular these past few years. The back of the body features an homage to John Coltrane by having his hand-drawn interpretation of the Tone Circle drawn on the bass. 
Specs
Body Woods – Spruce Top and Back, Walnut Body, Mahogany Struts
Neck Woods – Ebony Fingerboard, 3-pc. Red Oak
Construction Specs – Custom Hybrid Shape, 35″ Scale Length
Electronics Options – Passive Electronics, Fodera / Duncan Dual Coil Pickups (series/parallel/single coil)
To find out more about the Fodera Masterbuilt series check out their website here – Fodera Masterbuilt Series
2. Alpher Mako Elite "Crazyburl"

The second bass on our list comes from Alpher Basses from Yorkshire, UK. Alpher Basses are run by Alex Wood and Chris Dobson and are known for having these wild and unique tops on their basses.
They make custom basses from the best materials available. Alpher Basses have a massive range of wood, pickup, and electronics options for their customers to choose from. They mention on their website that they only use a true bolt-on design which gives them the classic "Alpher sound" to their basses.
All their basses have their own unique design specifically engineered for comfort and balance together with their wild tops to create the classic Alpher look.
To find out more about these amazing basses go to their website – Alpher Basses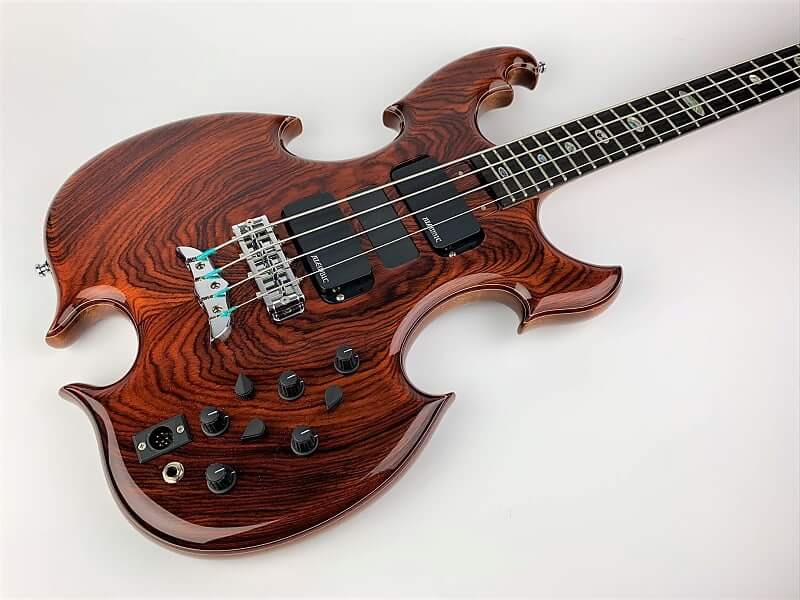 Alembic is a synonym for perfection, at least in our dictionary. Alembic first started out as a company that manufactured pre-amps way before they started making history in the bass guitar scene.
Owsley Stanley, the founder of Alembic, worked closely with the members of the legendary Grateful Dead and helped them in their sound and instrument repairs before he ventured out to make his own instruments. It was not until 1972 until Alembic made their first bass. They made a custom shop bass guitar for the legendary Jack Cassidy (played on Jimi Hendrix's Voodoo Chile).
Soon after in 1973, he made another instrument for Stanley Clarke, who at that time was playing with Chick Corea's Return Forever. Because of Stanley's high-profile gig, this partnership was fruitful and made Alembic a household name in the music business. 
Fun fact Stanley to this day plays Alembic bass.

This Alembic we are featuring is a Series II bass introduced in 1972, and the company describes it as "the finest solid body electric bass on earth". Series II basses are Alembic's flagship basses with its stock model already having features such as side LED position markers, continuous wood backplates, and truss rod cover, 24K gold plated hardware, inlaid logo with abalone, and mother of pearl.
Customizing goes up from here, and the sky is the limit.
Specs
Body Woods – Mahogany w/ Maple-Purpleheart Accents, Bookmatched Coco Bolo Top and Back, Continuous Wood Back Plates
Neck Woods – Mahogany-Maple-Walnut-Purpleheart-Ebony Laminated Neck/ Ebony Fingerboard, Abalone Oval Inlays w/ Silver Surrounds, Side Red Blue LEDs, 
Pickups/Electronics – Alembic Pickups w/ Dummy Hum Canceller/ 9V Master Vol., 2 Vol., 2 Filters, 2 CVQ Controls, 1/4″ Output, 5 Pin Output Including DS-5 Outboard Box
This bass is actually for sale on Reverb from The Bass Shop Seattle, check it out here – REVERB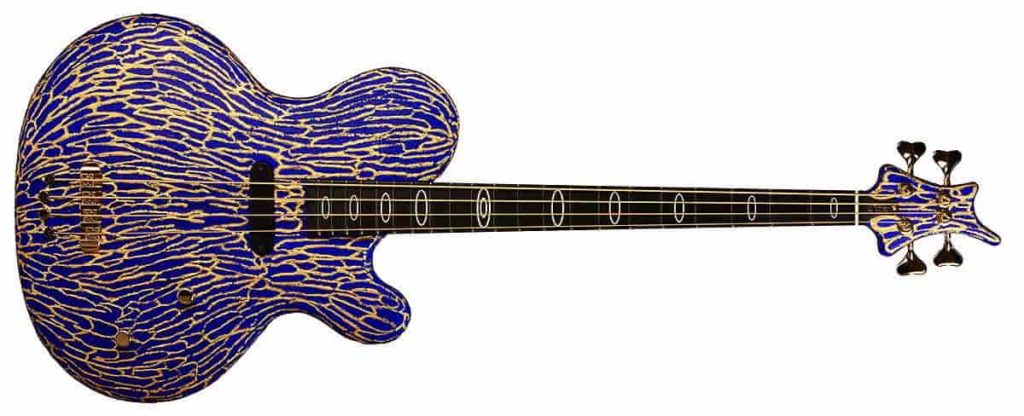 Ritter Basses are described as "handcrafted electric masterpieces" and by looking at this bass, that description is clearly justifiable. Jens Ritter started his own bass workshop in the '90s and focused on making only custom shop bass guitars. Later he started producing guitars as well and only makes about 50-60 instruments each year. Like the basses we mentioned before, these guitars are all hand made to order. Their body shapes include the Roya, The Okon, The Seal, Princess, The Jupiter, and The Raptor. These shapes are highly customizable, and as expected, the sky is the limit with the options.
Specs for the featured bass – 
String Spacing – VINTAGE 4 (60mm-30mm)
Hardware Color – Black
Body Wood – Red Cedar
Body finish – Training Yves with Gold / Frosted Transparent
Neck Wood – Maple
Neck finish – Training Yves with Gold / Frosted Transparent
Fretboard – Ebony
Frets – 21 Frets
Scale – 33.3″
Electronics – Vol & Tone
Pickups – RITTER MASTER Slimbucker
5. Devon Bass Guitars J4 Modern 24

Last but not least, we have this unique Devon Bass Guitar. This company first came on our radar at the 2020 NAMM Show. In our opinion, they had the most visually appealing basses at the whole show. Devon has been building bass guitars since 1990, combining his years of experience and feedback from players they created a really unique operation. We are eager to see what they come up with in the future!
Specs
Body – Chambered Alder
Neck – 3-piece maple
Fretboard – 24-fret Maple
Scale – 34″
Pickups – Nordstrand PowerBlades (bridge position is reversed)
preamp: Nordstrand 3b, 18-volt, 3-band with stacked master volume/tone, blend, mid (with push/pull for mid-shift switch) and stacked treble/bass with an active/passive switch
Bridge – Hipshot A, 19mm
Tuners – Hipshot Ultralites
Finish – Devon Distressed finish with nitro overlay
Cover – Magnetically-fastened electronics cover
Weight – 7lbs, 12oz
To find out more about these basses go to their website here – Devon Bass Guitars 
In conclusion, boutique custom shop basses are a good choice for someone who really knows what tone and features they are going for. And also, if your budget allows you these custom basses are a perfect choice for any bass player out there. If you are not sure what are the exact specifications you need in a bass, we would suggest going for a production model.
To check out more articles from Insta of Bass, click HERE.