Bass of the Day – Fodera Mini MB Presentation Bass
Fodera is known for always pushing the bountaries of bass making, and the new Mini MB Presentation is no different. Mike Bendy, Vinny Fodera, Joey Lauricella, and the Fodera Team collaborated on this futuristic new model, which incorporates a number of innovative and cutting-edge improvements and concepts.
"It's a big step forward in terms of sound and design" – Fodera Guitars explains.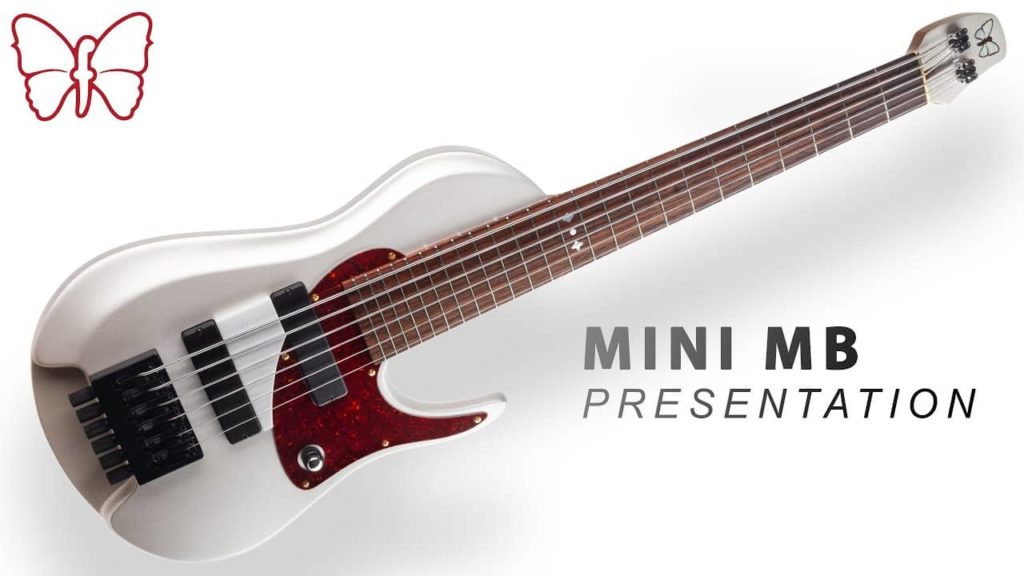 This is Mike's new signature model, which embodies all of his inspirations. The end product of this collaboration is a playable sculpture that is light, small, and sure to turn heads thanks to its dazzling tone and distinctive aesthetic flair.
This new Fodera Mini MB Presentation features an alder body paired with a 3-piece roasted maple neck, 24 frets on a 31″ scale and a headless design. Perhaps even more striking than the unusual shape, though, is the 6 string 24-fret Indian rosewood fingerboard paired with a 16.5mm string spacing and a headless bridge design.
By the looks of this bass, it will sure turn some heads, but to go to the next level, Fodera included Mother of Pearl tulip inlays on the 12th fret, 'Unicorn Tears' Ramp and a tortoiseshell pickguard to complete the aesthetics.
The Fodera Mike Bendy model is equipped with a set of Fodera/Duncan dual coil pickups paired with passive electronic. This bass only has two volume knobs to complete the slick look. Even without the complex preamp design Fodera is known for, players can undoubtedly dial in an array of tones with only the two volume knobs as well.
Specifications:
Alder Body
3-Piece Roasted Maple Neck
Indian Rosewood Fingerboard
Opal/Indian Rosewood Butterfly
Snowhite Pearl Satin Finish w/ Matching Headstock
Tortoiseshell Pickguard
'Unicorn Tears' Ramp
MOP Tulips Inlay on 12th Fret
Black Hardware
Neck-Through-Body Construction
31″ Scale, 24 Fret
16.5mm Spaced Headless Bridge
Garrison Pickup Spacing
Passive Electronics (Volume/Volume)
Fodera/Duncan Dual Coil Pickups
To find out more about this bass visit their website – www.fodera.com