Ryan Martinie Signature "Blondie" Fodera Bass
Fodera Guitars teamed up with Ryan Martinie, best known as the innovative bass player of Mudvayne, to develop a new custom shop artist series bass. This new model is based on the Monarch body type. This Fodera model was designed to meet his tone and playing style requirements as well as the ergonomic preferences that he was looking for in a custom bass. Together they created a bass that has a wide tonal range that can be used from jazz fusion to progressive rock, and all the way into heavy metal.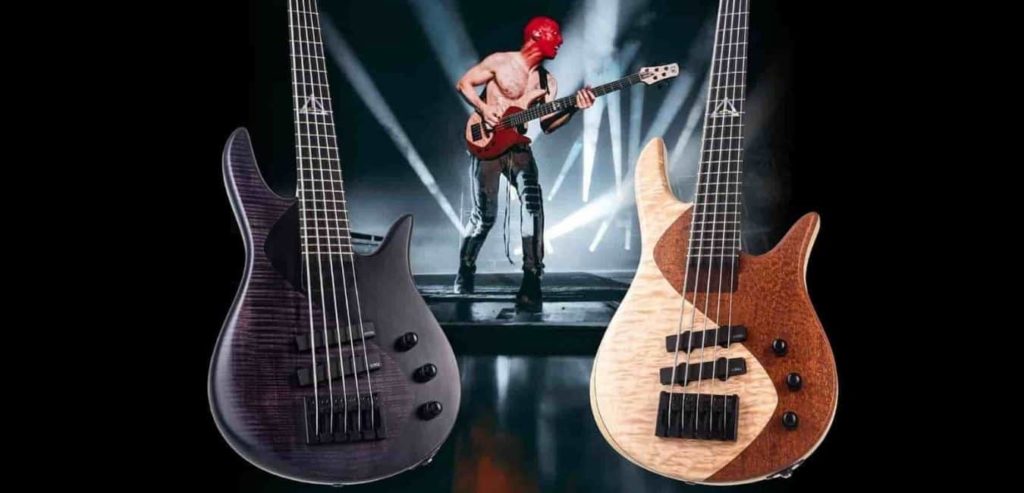 Ryan Martinie, a bassist from Peoria, Illinois, was born in 1975 and has been one of the most unique and technical bass players for over two decades now. He grew up playing in local progressive rock bands and also learning jazz and classical singing in school. He joined the heavy metal band Mudvayne in 1998 and became a pioneer of the nu-metal genre. He's most recently been a member of Soften The Glare, a fusion/progressive rock band. Ryan has also performed as a live member of Korn and as a guest performer with Kurai.

The Ryan Martinie Signature "Blondie" model matches the demands of his playing style with a 34″ scale, 26-fret design, and 16.5mm bridge spacing. The Korina body is topped with a Quilted Maple/Pomelle Sapele top and is complemented by a three-piece Wenge neck and Ebony fingerboard. With a focused and prominent midrange, the tone is enormous, harmonically rich, and very touch responsive.
It has a shortened Monarch body style with a deeper cutaway, a new "Zig-Zag" top design, scooped fingerboard end, double-slanted pickup location, and string-through-body construction, as well as a modified bolt-on heel cut to allow for easier upper fret access. This model keeps the characteristic qualities of Fodera while suiting the needs of a performer as technical and progressive as Ryan. It is equipped with EMG J/J pickups and Fodera Standard Preamp.
Specifications:
Korina Body
Quilted Maple/Pomelle Sapele Top
3-Piece Wenge Neck
Ebony Fingerboard
Blank Fingerboard w/ Abalone Mudvayne Rhombus @ 12th Fret
MOP Side Dots
Black Hardware
Bolt-On Neck Construction
34" Scale, 26-Fret
16.5mm Spaced Bridge (String-Through-Body)
Double-Slanted Pickup Configuration
Fodera/Pope Standard Preamp
EMG J/J 5 Pickups
To check out more bass guitar features from Insta of Bass, click HERE.