Suzi Quatro And Bite Guitars Release New Signature Bass
Suzi Quatro, rock legend, singer-songwriter, and bassist, has collaborated with Austrian company Bite Guitars on a new signature bass guitar.
The new bass features the company's Jawbone JJ body form, a Dakota Red finish with black floral artwork, and a pair of high-output single-coil pickups controlled by two volume knobs and one tone pot.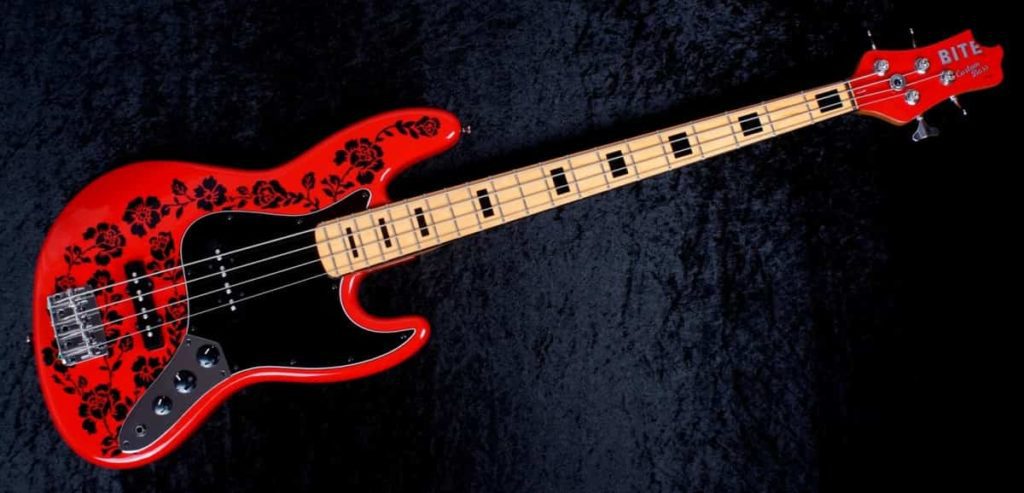 This model has an alder body with a hard maple neck and fingerboard, similar to other Jawbone JJs already in Bite Guitars catalog.
Bite Guitars' Wolfgang Maderthaner states, "With Suzi's bass, we wanted to hit the sweet spot of Dakota Reds." He also adds that "This is a new instrument for us since it's our first time doing a Dakota Red colorway." " Suzi and her son, Richard Tuckey are a fantastic duo. They record and perform together as well as create this bass together."
Suzi Quatro's debut hit, Rolling Stone, became her first number-one single. Since then, she has sold over 50 million CDs and is still recording and touring at the age of 71. The Devil in Me, her most recent album, was released earlier this year.
In support of her new album, Suzi Quatro is planning an extensive tour. Check out her upcoming tour dates below:
12.18.2021 DE Leipzig
04.20.2022 GB London
​04.24.2022 DE Stuttgart
04.30.2022 DE Obertraubling
05.12.2022 DE Offenburg
05.28.2022 DE Dillingen
06.03.2022 DE Ulm
06.05.2022 DE Siegen
​06.25.2022 DE Neuleiningen
07.08.2022 DE Zwickau
07.09.2022 DE Cottbus
07.10.2022 DE Neuruppin
08.04.2022 NL Dicky
08.13.2022 DE Mühlheim
09.10.2022 DK Knebel
09.23.2022 IRE Belfast
10.05.2022 SE Stockholm
10.06.2022 SE Malmo
10.15.2022 DE Fulda
​10.16.2022 DE Augsburg
10.20.2022 DE Friedrichshafen
12.09.2022 DE Mannheim
12.11.2022 DE Dessau
12.12.2022 DE Berlin
12.13.2022 DE Dresden