Top 5 Greatest Heavy Metal Bass Players of All Time
As everyone knows, the bass guitar, together with the drums, is the most crucial part of any band. That's the same for heavy metal as well. Bass Players in heavy metal are the most unselfish part of a band. Their contribution to the sound of a band sometimes gets overlooked. 
That is understandable because blazing fast guitar riffs and lightning-fast drum parts are at the forefront of this genre. But bass players are still the ones that are holding everything together. You know the saying, "Bass is like the glue that's holding the band together," is still applicable for heavy metal as well.
In this list, we compiled some of the most unique and ground-breaking bass players. All these musicians are legends in their way. They were some of the most innovative bass players in the heavy metal genre. Their contribution will live on forever through their music!
Let's dive into it!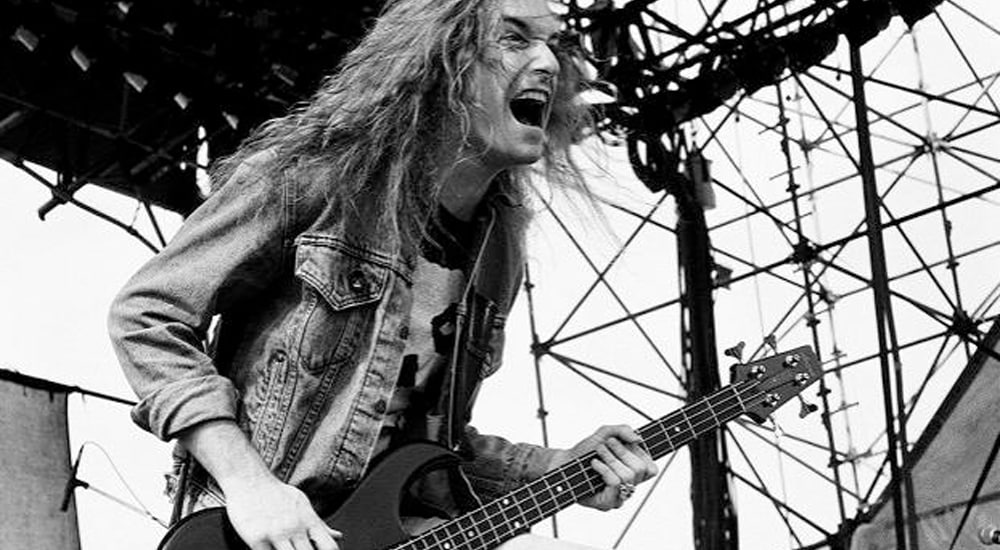 The first one on our list is Cliff Burton. Cliff came to prominence with one of the first thrash metal bands, Metallica. 
Cliff Burton first achieved fame in the heavy metal community when he joined "Trauma" in 1982. James Hetfield and Lars first saw him perform at the world-famous "Whiskey a Go-Go". He was playing with this then-band Trauma.
He was performing his bass solo song – Anesthesia (Pulling Teeth) – check out the video below – which led him to land the Metallica gig.
Cliff Burton played on the band's first three albums, "Kill 'Em All", "Ride the Lightning", and "Master of Puppets". 
Unfortunately, his life ended tragically early. He died in a devastating bus crash while on tour with Metallica in 1986. They were supporting their "Master of Puppets" album in Sweden when he died. He was only 24 years old. Rolling Stones Magazine ranked him in their "Greatest Bassist of All Time" list in 2011.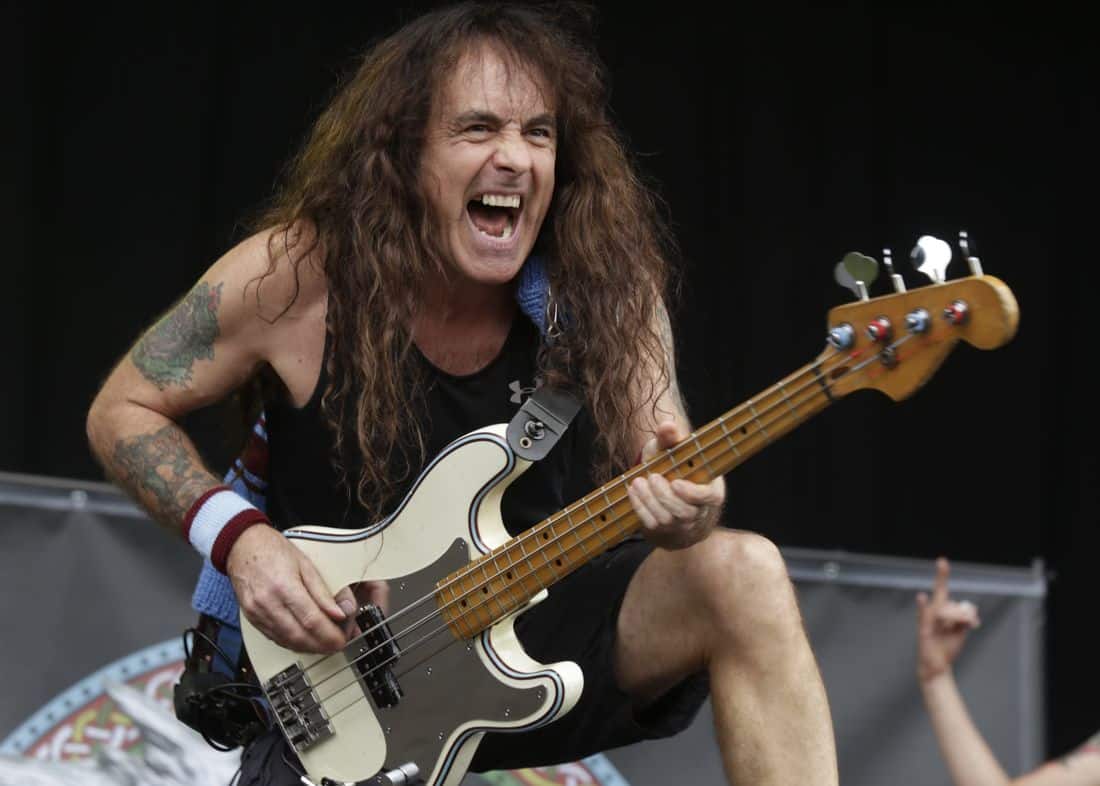 The next one on our list is the legendary Steve Harris. He is an English-born bass player, multi-instrumentalist musician. He was the founder and main songwriter of the heavy metal band "Iron Maiden". He remains the only constant band member since 1975.
His style of bass playing is easily recognizable. Steve's tone and feel are also immediately distinguishable, that what makes him one of the legends of heavy metal bass playing.
He was the first who utilizes the "galloping" technique. Usually playing it with two fingers but sometimes using a pick as well. His signature "gallop" bass playing is heard on their song "Run To The Hills" – check it out below!
Steve is usually seen playing a Fender Precision Bass. in 2009 Fender released the Steve Harris Signature bass. The most notable differences on his signature bass are the blue-sparkle finish and the mirrored scratchplate.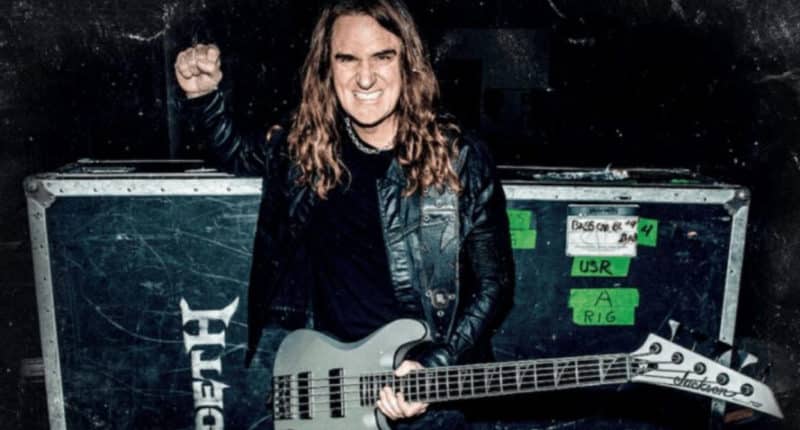 The next one on our list is David Ellefson. He was one of the founding members of Megadeth in 1983. David Mustaine, who was a member of Metallica, got fired and in return, formed Megadeth. This band became one of the 4 original Thrash Metal bands of the '80s known as the "big four" metal bands. Other bands included in the "big four" were Metallica, Slayer, and Anthrax.
Ellefson is known for his aggressive and fast bass playing. With Megadeth, he can be heard playing with a pick and, without a doubt, is one of the tastiest metal bass players out there. Check out "Dawn Patrol" below to hear what I am talking about!
David Ellefson is usually seen playing Jackson Guitars and had many signature models built by them. His latest model is the 30th Anniversary bass – Check out our article about his newest Signature 30th Anniversary Bass.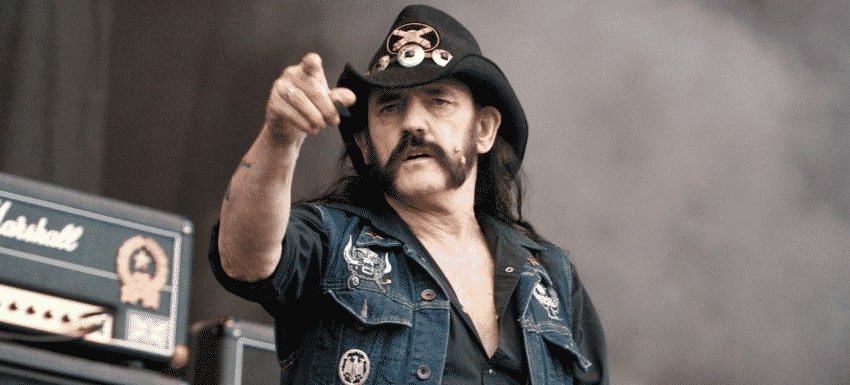 Lemmy Kilmister is a legend in his own right. He was the founder, bass player, and main songwriter of the English heavy metal band Motörhead. He was one of the first musicians who started the Heavy Metal movement.
Lemmy is known for his raspy voice, playing everything turned up to 11 and living the true rockstar life. All this suited his music and persona. He was dubbed as "one of the most recognizable voices in rock".
Kilmister was known to play Rickenbacker guitars through Marshall guitar amplifiers. Paired with heavy distortion, everything turned up all the way.
He founded Motörhead in 1975 and had hits like "Ace of Spades" (see video below) and chart-topping albums, such as "No Sleep 'til Hammersmith".
Fun fact about Lemmy, around 1967-68, he worked as a roadie for the legendary Jimi Hendrix.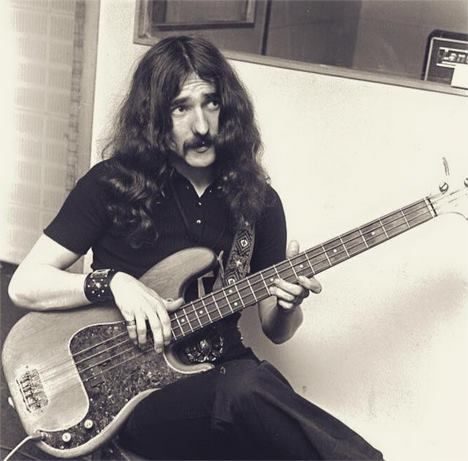 Last but not least, on our list is Geezer Butler of Black Sabbath. Other than being the bass player, he was also the primary lyricist for Black Sabbath. He was born in 1949 in Birmingham, which is where the Black Sabbath was formed as well.
Butler's first instrument was the guitar. Legend says that the very first time he held a bass in his hand was at his first gig with Black Sabbath. Getting inspired by Jack Bruce, Butler developed his unique style of playing. His playing became the staple for future heavy metal bass players. His mastery at work can be heard on many Black Sabbath songs. Check out the bass intro for "N.I.B" (video below) if you want to hear one of the best bass riffs in early Heavy Metal music.
He was one of the first bass players who experimented with alternate tunings on the bass guitar. He tuned down his 4 string bass from the standard E-A-D-G to C#-F#-B-E that gave him a deeper and heavier bass sound.
This list is in no particular order. We tried to list some of the most influential and legendary heavy metal bass players in our time and in our opinion. The legacy these players carry is second to none and all of these players deserve to be studied and listened to. 
Hey…at least they are the ones who laid down the foundation for future bass stars.
To check out more articles from Insta of Bass, click HERE.