Ernie Ball Music Man DarkRay, A Collaboration With Darkglass
The new Ernie Ball Music Man DarkRay bass was created in partnership with Darkglass Electronics, a world-renowned bass accessory maker. This new instrument opens up a whole new universe of musical possibilities.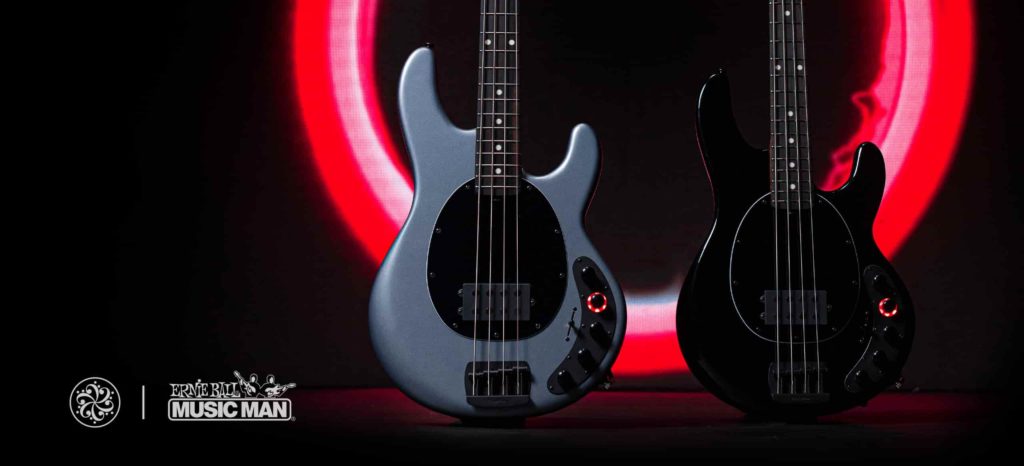 The tone is one of the most crucial parts of any instrument. Darkglass has built a new modern 2 Band EQ preamp exclusively for the new Music Man DarkRay bass for ultimate tonal options. The tonal palette includes Clean, Alpha (distortion), and Omega (light fuzz) sounds.
Each of these three sounds has its own distinct and useful sound. Both distortion circuits can be fully mixed using the onboard gain and blend controls, which can be adjusted to the user's liking. The 2-band preamp also includes the regular volume, treble, and bass controls with a separate blend and gain knob.
With no low-end loss, you can get a stunning clean tone, moderate gain, or a harsh fuzz tone. The mode of the bass is indicated by a bright LED ring and a 3-way lever switch.
With a neodymium humbucking pickup, roasted maple neck, comfort contoured body, 22 stainless steel frets, and the traditional 3+1 headstock layout, the all-new DarkRay is every bit a Stingray Special. A 5-bolt attachment with perfect alignment and no shifting secures the neck. To identify the DarkRay edition bass, a special Darkglass logo is applied to the neck plate.

Color options include Obsidian Black and Granite Stone, the latter one is a limited edition color.

Specifications 
Body – Select Hardwood
Finish – High gloss polyester – Obsidian Black; Satin polyester – Granite Stone
Bridge – Vintage Music Man Black
Pickguard – Black
Scale – 34 inch
Radius – 11 inch
Frets – 22 
Neck – Roasted maple 
Fingerboard – Ebony
Neck Colors – Roasted – Obsidian Black; Color Matches Body – Granite Stone
Controls – Custom Darkglass 2-band active preamp with two distinct distortion circuits.
Pickup – Humbucker
To find out more about this bass here – www.music-man.com