Gruv Gear LYNK, A New Modular Pedalboard
Say goodbye to different pedalboard configurations and the difficulties of regularly rewiring and reconfiguring your board! With its innovative "lynkable" panels, the new Gruv Gear LYNK modular pedalboard allows you to design your own custom length board allowing you to bring only the effect pedals you need for the gig. The LYNK also has a wireless rechargeable power supply that will keep your digital and analog pedals charged for hours without needing to plug them in, reducing cable clutter and trip hazards.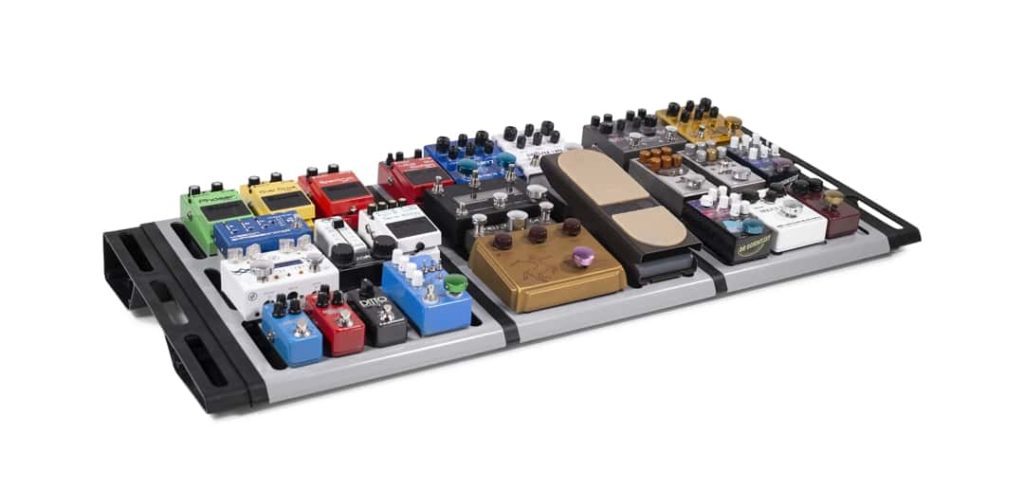 Each lightweight aluminum panel is 12″ wide x 17″ deep, with threaded feet on the connectors so you can adjust your LYNK to the optimum angle.
The feet are also double as screws that keep your LYNK together and are very easy to adjust by hand. These threaded feet will also allow you to change the angle of your board, whether you want a flatter or inclined board.
From bedroom shed sessions to epic arena shows, the Gruv Gear LYNK can do it all. It is made of lightweight aluminum with heavy-duty nylon-filled PA6 connectors on each end, keeping your effects organized for every occasion.
To find out more, go to their website – www.gruvgear.com