Isley Brothers: Top 5 Songs Of All Time
The Isley Brothers had one of the greatest and longest careers in popular music. They were active from the mid-1950s all the way up to 2017. That's seven decades of music!
With their unique style that merged rock, soul, and R&B they created some of the most unique and well-known songs of the 20th century. Furthermore, with over 100 singles, 30 studio albums, and countless Billboard top 100 hits they truly cemented their name in popular music history.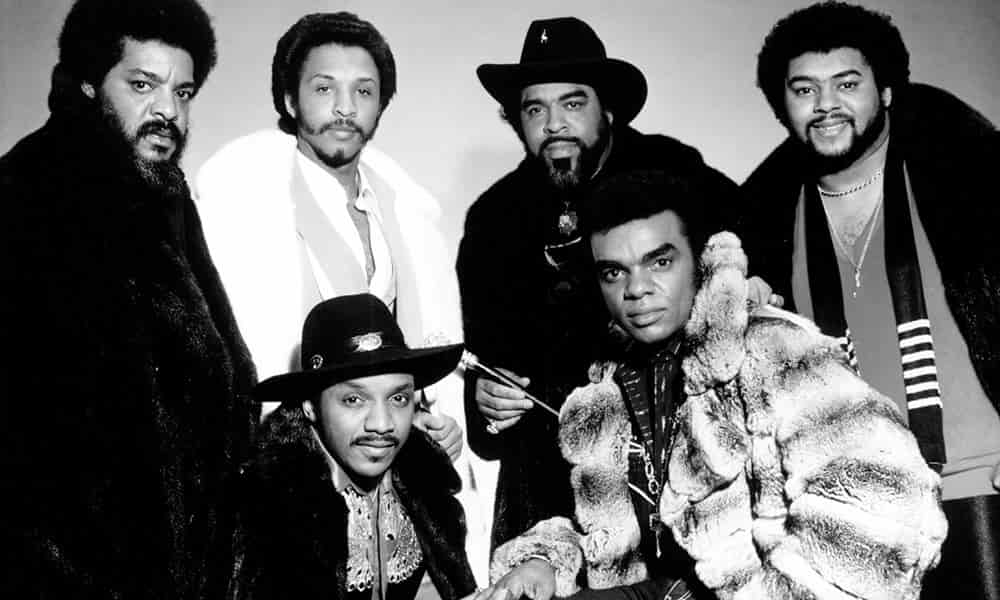 The Isley Brothers
The Isley Brothers, as their name suggests, were formed by three brothers, Rudolph Isley, Ronald Isley, and O'Kelly Isley in their hometown of Cincinnati Ohio. 
Soon after their formation, the group saw limited opportunities in Ohio and moved to New York City. It was here where they started to work with major producers and record labels. 
They were one of the first bands in NYC that combined doo-wop with gospel music. This unique combination of styles caught the eyes of RCA Records who signed their first record deal.
In 1962, they released their first single with RCA Records, the now infamous song, "Shout". This song gained some notoriety in the music business as it was their first Billboard charted song. Their second breakthrough came with their next single "Twist and Shout" which reached number 17 on the Billboard HOT 100. 
After the initial success of "Twist and Shout" they were struggling to break into the mainstream music scene. It was during this time when a young Jimi Hendrix (yes, that Jimi Hendrix) played guitar in their backing band. He recorded two singles with them but after it failed to chart he left them for good.
Their turning point came in the late '60s. This was when The Isley Brothers saw their commercial breakthrough. In 1969 they released their highest charting song in their career. "It's Your Thing" reached number 2 on the Billboard HOT 100 and also earned them a Grammy Award. This song launched their mainstream career that continued for 7 decades.   
Over the years they released many hits in many different genres so it was really hard to come up with a top 5 list. In our opinion, these 5 songs are their most successful and beloved tunes of all time.
Let's dive into it!   
We start our list with a song we already mentioned briefly, "It's Your Thing". This song was their "breakthrough" song, reaching the number two spot on the Billboard HOT 100. As we already said, they also received a Grammy Award in the Best R&B Vocal Performance category.
This song was written as a response to Motown founder, Berry Gordy, who, let's just say, didn't handle his artist really well.
4. That Lady (Who's That Lady)
Next up we have "That Lady (Who's That Lady)" from their 1973 album "3 + 3". Although the band has been playing this song live for nearly a decade they waited until the right moment to release it. 
This song was included in Rolling Stones – 500 Greatest Songs of All Time list.
Fun fact, this song was heavily sampled by Kendrick Lamar for his 2014 song "I".  This song even won him 2 Grammy Awards, for Best Rap Performance and Best Rap Song at the 2015 Grammy Awards. 
In the 3rd place, we have "Between the Sheets". This song was released as the first single on the 1983 album of the same name.
As we said before, The Isley Brothers went through a lot of genre changes. This song sounds completely different from their earlier releases, but it became a hit and marked a style change for the band.
The Isley Brothers are one of the most covered and sampled bands in history. This song alone was used over 50 times. Most notably it was the main sample in "Big Poppa" by Notorious B.I.G. that went on to get certified platinum by the RIAA having sold over 1 million copies.
Even though this song didn't reach mainstream success, it became a staple in the Isley Brothers repertoire. It was featured on their double-platinum album "Go For Your Guns" which was released in 1977.
Its laid-back groove was an inspiration for many hip-hop songs of the early 2000s. The drum groove alone was sampled by many artists, most notably by J Dilla and bass player Thundercat.
At the number one spot, we have a song, that wasn't just a hit song, but it became part of the popular culture of the USA. I bet there are not a lot of people who have never heard this song before.
This song was originally released in the early '60s but it didn't see success until it was featured in the Hollywood movie, Animal House in the late '70s.
This song was also listed in Rolling Stones – 500 Greatest Songs of All Time list.
The Isley Brothers were one of the most popular and successful bands of all time. They sold over 18 million records in the US alone, and are the only band that had Billboard Top 100 hits in five (!) different decades. 
The brothers are also included in the Rock and Roll Hall of Fame and among other awards, also received a Grammy Lifetime Achievement Award.