Silk Sonic, New Band by Bruno Mars & Anderson .Paak
Silk Sonic was formed by two heavyweights of today's music industry. Bruno Mars and Anderson .Paak has teamed up to create this supergroup and their collaboration is exactly what we missed in today's popular music scene. 
Their music is a nice throwback to the '70s classic R&B vibes, played on real instruments and paired with popular songwriting and production techniques to create a sensational mix.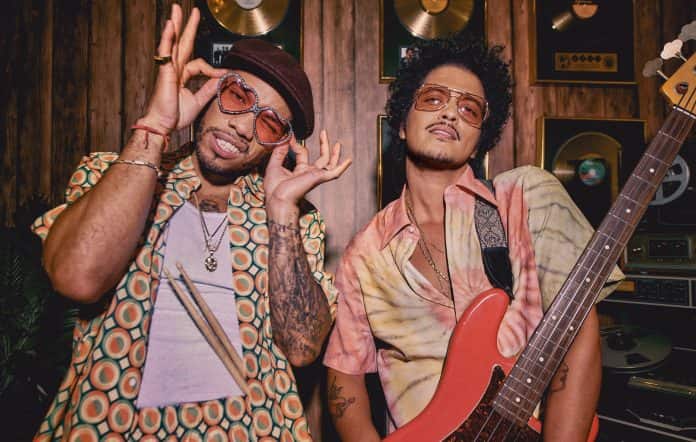 The duo first met in 2017 when Anderson .Paak was opening for Bruno Mars on their European 24K Magic Tour. A couple of months later they went into the studio and started working around with ideas and begun recording songs that would later become the 'Silk Sonic' project. 
The general public however had to wait until 2021 to find out about their collaboration. In February this year Bruno and .Paak released a statement on their social media, stating that "Silk Sonic locked in and made an album". 
In a press release, they mentioned that the band was named by the legendary bass player Bootsy Collins after listening to their yet unreleased debut album. 
Check out their first single 'Leave the Door Open' 
Their first single 'Leave the Door Open' was released a month later in March of this year. On bass duties, they have the multi-instrumentalist and producer Brody Brown who provides the smooth bass lines that are reminding us of the great lines of James Jamerson. He's providing a great foundation for Bruno and Anderson to shine through, although he does play some nasty fills here and there which pushes the groove even harder. 
Leave the Door open debuted at the #1 spot on the Billboard Hot 100 charts and is an RIAA 2x Platinum record. It also reached the top 10 spots in many different countries like Australia, Canada, and New Zealand to name a few.
Silk Sonic made its television debut at the 63rd Grammy Awards Show in March of 2021. They performed their hit single 'Leave the Door Open' and did a tribute to Little Richard, who died the previous year, by covering 'Long Tall Sally' and 'Good Golly, Miss Molly'.
Check out their second single 'Skate' 
Their second single 'Skate' was released in July of 2021 and was an instant classic again, reaching the Billboard Hot 100 Chart again. 
Through its short history, Silk Sonic has already won multiple awards. For example, they received the Best Group Award at the BET Awards and won the Best R&B and Best Editing Award at the MTV VMAs for 'Leave the Door Open'. 
Their debut album 'An Evening with Silk Sonic' is scheduled for early 2022. Let's hope until then they release a couple of more singles just to fuel our curiosity of this project even more.